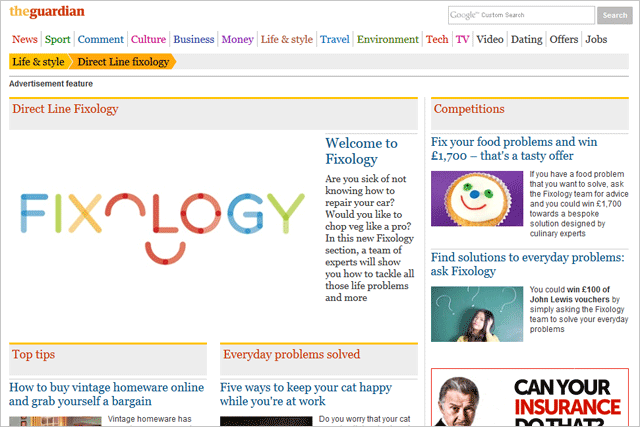 The undisclosed deal, which was brokered by MediaCom, runs for four months from mid-September.
The Fixology branded content is hosted on a microsite linked to theguardian.com, where well-known experts will offer advice on a range of topics. These "fixologists" include, 'Great British Bake Off' winner John Waite and travel expert Tom Hall.
Five overall topics are addressed with easy to follow advice on motors, travel, home, food and pets. Content includes how-to videos and live Q&A sessions. The initiative is overseen by Guardian Labs.
Anna Watkins, Guardian Labs' managing director, said: "This is a fantastic collaboration between Direct Line, MediaCom and Guardian Labs that puts readers at the heart of the campaign.
"It offers a great opportunity for people to interact with experts and gain practical advice for their day-to-day lives. I'm incredibly excited to see this idea come to life through Guardian Labs."
Wendy Pearson, head of marketing, Direct Line, said: "We're delighted to be working with the Guardian.
"This idea has been developed together and will enable us to engage with readers with compelling, meaningful content and help land our new positioning as the fixers in the insurance industry."
Adrian Brook, associate director, MediaCom, said: "We're really excited to see this partnership realised and it is the result of a fantastic relationship between Direct Line, Guardian Labs and MediaCom.
"The partnership will allow readers the opportunity to interact with Direct Line in a way that they will find both useful and engaging."