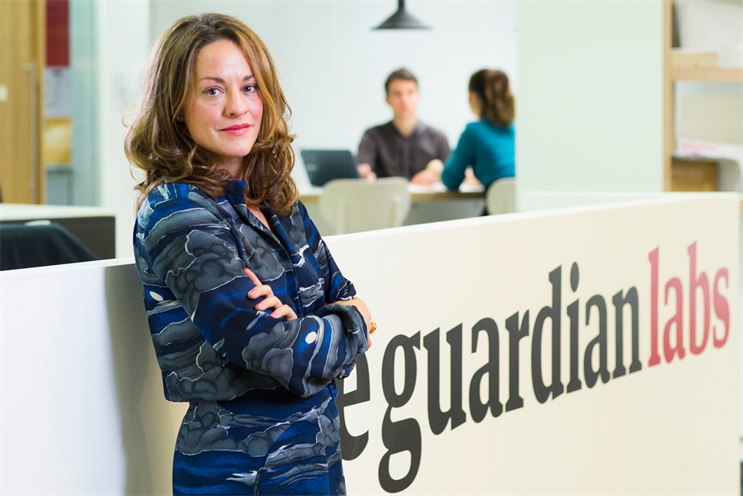 Anna Watkins is on a mission at The Guardian. Full of purpose and radiating energy, she is out to prove just what her favourite news brand is capable of when it comes to creating long-term, engaging commercial partnerships.
Guardian Labs is officially up and running. It has been almost a year since the publisher launched its award-winning partnership with EE and months since Watkins joined from the Interpublic media agency Initiative.
Critics will be forgiven for asking what's so new about the operation. At first glance, Guardian Labs, dubbed "GLabs" internally, is nothing more than a rebranding of some well-established services; but Watkins, its managing director, is having none of it.
"I've been running around like an absolute bastard for the past four months," she says. "We've restructured, we've pummelled departments together.
"We've taken the professional clients service team, the project managers and all of the journalists who write the content for the 17 professional networks (around 80 people) and put them with the old brand partnerships team (about 30 people). Also, Guardian Creative, previously outsourced to Seven, has been brought back in-house."
Located in its own sweeping arch of space on the second floor of Kings Place, Watkins' new team of 133 strategists, designers and content specialists form part of a strategic play by The Guardian to make its "open journalism" model pay.
The publisher does not have hundreds of thousands of paid digital subscribers like some newspapers, nor does it command large spend from individual advertisers for its print edition. As Rob Lynam, the head of display at MEC, notes: "Unlike The Times or the Telegraph, you'll be hard-pressed to find a single client spending more than £1 million with The Guardian per year on display, so sizeable content partnerships must represent a potentially lucrative new revenue stream."
There can be few tie-ups as well-matched as The Guardian's "seven-figure" partnership with Unilever, announced last week. The deal, brokered by Mindshare, will create a bespoke platform to boost awareness of sustainability issues. It is clearly the poster child for what GLabs, with its collaborative approach, can do.
"A lot of publishers have creative solutions or native advertising departments, but my hunch is that they're not set up in the way we've set it up. Nor do they have the size and scale that we have," Watkins says. "We're now bringing it altogether as an agency model – we're saying it's really important."
The Unilever venture will be led by Bibi van der Zee, described as a "political activist", who will maintain "editorial independence". It means the FMCG giant has no editorial sign-off, unlike in an advertisement feature. An editorial tightrope, but such balancing acts are not new in publishing – clear labelling and divisions should aid the way.
Trying to ascertain the true scale and ambition of GLabs is no easy task. Numbers are never split out in financial reports, and Watkins refuses to provide any sense of performance to date or future ambition, noting: "There's a lot of interest in The Guardian's commercial model right now, not least from News UK… I really can't comment."
Sources suggest the former brand sponsorships division has been a major growth area – across print and digital – for the past five years. More than 120 campaign-led brand initiatives are believed to have generated up to £10 million in 2013. Targets for 2014 are tipped to be in the region of £15 million. Watkins will only describe her goals as "really ambitious".
Client-side marketers are said to be increasingly proactive in asking how they can partner with The Guardian, but Watkins has no doubt where much of her attention should be focused. "We would be shooting ourselves in the foot if we tried to shut out the media agencies. They are absolutely fundamental to our business," she says. "The majority of our briefs are from media agencies."
The Guardian still finds itself on shortlists against traditional rivals such as the Telegraph, the Daily Mail and Metro, although the presence of The Huffington Post, BuzzFeed and Vice Media is growing all the time.
Watkins – who works "hand in hand" with the sales director, Nick Hewat – rebuts suggestions that the rise of GLabs will be at the cost of display ads. She says Hewat's focus is on "ad innovation" and believes display remains the most cost-effective way for a brand to drive awareness, while GLabs is a non-template, premium engagement proposition. The two are said to be complementary. "We don't mind where the money comes in, we just want it to come into The Guardian," she says.
Both Watkins and Hewat report to the deputy chief executive, David Pemsel, whom Watkins calls "a force to be reckoned with" – which, coming from her, is significant. An agency roadshow is planned to highlight GLabs' potential. For Watkins, the vision is clear: "We want higher-value, longer-term, innovative client relationships. We are going to absolutely run at it."
Read comment: In an age of shifting sands, Guardian knows the value of a good rebrand.
Watkins on leaving Initiative…
"I like fixing things and restructuring things, and I had my hands tied at Initiative. There was a hell of a lot of change, including my direct reporting line: Alex Altman left, Jim Hytner was an inspirational global CEO and then they restructured and he was moved to a new role, and then Andy [Jones], a delightful man whom I got on with brilliantly.
"After a year and a half at Initiative I feel I put in a place a good bedrock – had I totally finished the job [as managing director]? Not completely. I wasn't looking at Initiative and saying I need to get out – I had hired really good people in David Grainger and Lee Ramsay. The real reason I left was because the Guardian offer, for a lifelong fan like me, was simply too good to be true.
"Andy gave me such grief (when I said I was leaving) but this was a bigger job; bigger opportunity, bigger business. We're growing globally. We're working out how content forms a part of our global proposition. There are a lot of conversations that need to be had within the business. Everything from working with editorial to understanding how we sign-post different content. How we structure the deals financially… so it's the scope, the scale and the ambition and the pace of change that excites me."