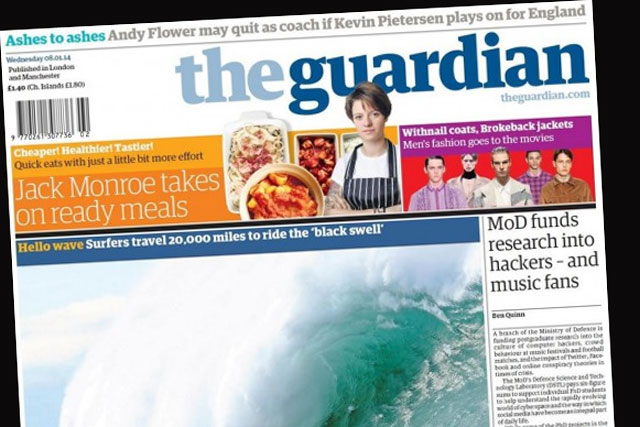 The first issue of Do Something on 11 January will encourage readers to develop new skills and try new experiences.
From learning to snowboard to mastering street photography or starting your own supper club, Do Something aims to help readers to make it happen with expert guidance and advice, exclusive special offers, and local information.
The supplement will be edited by Emma Cook.
In further developments, from 12 January the cost of a weekday Guardian will also rise 20p to £1.40.
The price hikes of The Guardian weekday and Saturday editions come exactly one year after the last increases, when the cover price of its weekday and Saturday editions lifted by 20p to £1.40 and £2.30 respectively.
From next week, The Guardian is also hoping to re-energise its sports coverage by creating a daily Sport supplement from Monday to Saturday.
Explaining the price rises, a Guardian spokesperson said: "We deeply value the loyalty of our readers, but this is a tough market for all newspapers and we believe these are the correct current price points for The Guardian."
"The rise will enable us to continue to invest in the high-quality journalism on which The Guardian's reputation is based. It will also enable us to continue to improve our print products, which will remain the foundation of our organisation for many years to come."

Among The Guardian's quality newspaper rivals, The Daily Telegraph is priced at £1.20, and £2 on Saturday; The Times is £1 on weekdays and £1.50 on Saturday; The Independent is £1.20 on weekdays and £1.60 on Saturday, and the Financial Times is £2.80 on weekdays and £3 for the weekend edition out on a Saturday.
Follow @DurraniMix