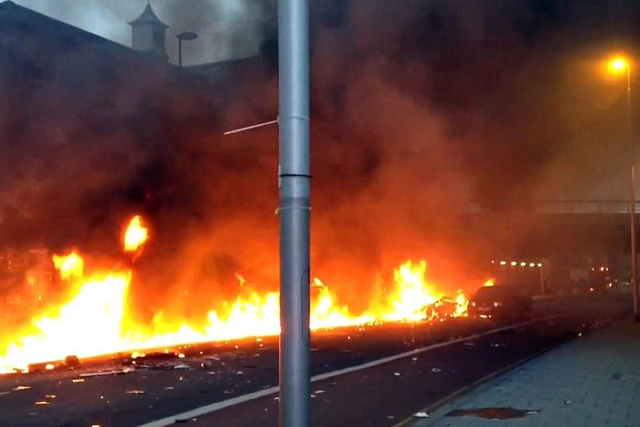 GuardianWitness has been created in partnership with mobile phone firm EE. GuardianWitness is designed to be the home of user-generated content on The Guardian and highlights increasingly how user-generated content is playing a vital role in reporting news.
The most recent example was the fatal London helicopter crash in January, where news broke first on Twitter beating traditional news outlets to the story.
Passers-by on the scene tweeted eyewitness accounts, took pictures and shot videos on their phones, much of which was later used by the media.
Most prominent in all of that was how the London Evening Standard used a picture taken by Craig Jenner, (@craiglet) who captured blazing debris across a South London street, as its front page splash.
As the story developed in the minutes after the crash, more and more pictures streamed onto social networks and it is this kind of development in part that The Guardian is hoping to capitalise on.
Readers are being invited to submit video, pictures and words or to simply browse contributions submitted by others.
The idea of GuardianWitness is in part to help support the news output of Guardian journalists. The Guardian is doing this on one of two ways – by editors issuing a call for input on a wide range of topics, or through live news tie-ins.
The project echoes what CNN has long been doing with its citizen journalism iReport website, which was relaunched 18 months ago.
The latter situation will occur when Guardian journalists flag live blogs as suitable for contributions, which will enable readers to be part of a breaking story. The paper will include the best contributions in the live blog – for instance your experiences of austerity protests around the world or your videos of the latest extreme weather event.
Outside of that, readers can send in suggestions that haven't been requested, whether it is news, a tip-off or an unreported story or stories that other Guardian readers might like to take part in.
"It might be a simple but beautiful idea such as asking everyone to take a picture at a certain time of day or it might be a way of investigating an issue in more detail," according to the GuardianWitness site.
The development of the project picks up on a trend where Guardian readers have been involved in some of the biggest news stories of the last decade, such as helping review MPs' expense claims; providing eyewitness accounts of the Arab Spring, and understanding the UK riots.
Some high-profile examples include the death of newspaper seller Ian Tomlinson. While the police said it was not suspicious, a reader sent the paper a video clearly showing a police officer knocking Tomlinson to the ground.
According to Joanna Geary, digital development editor for The Guardian: "The GuardianWitness platform, and supporting iPhone and Android apps, will help us to carry on this tradition. It will allow you to tell your story - by desktop or mobile – by submitting pictures, videos and text to journalists directly from an assignment."