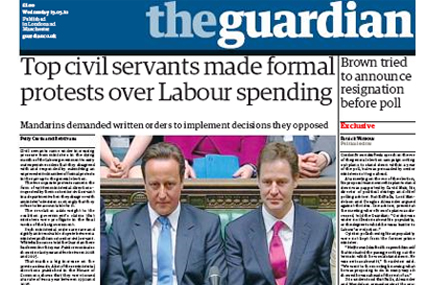 The move by The Guardian comes just weeks after the Independent hit commuters with free sampler copies of its newspaper.

Guardian News & Media (GN&M), the publisher of The Guardian, is distributing copies of the "mini guardian" for one day a week in a three-week run.

Distributors are handing out thousands of copies across key London stations, including mainline stations like Waterloo.
This week's sampler handed out on Tuesday (18 May) appeared to be a 24-page shrunken issue of the Guardian, featuring news, sports and columnists taken from the main Guardian newspaper.
GN&M has run previous sampling campaigns but it is the first time the product has been labelled "the mini guardian".
Last month, as part of The Independent's relaunch, new owner Alexander Lebedev opted to hand out free, downsized versions of the paper. The publisher gave away 300,000 copies for 10 days across the UK.
The Guardian denied the move was in response to The Independent's campaign but rather a good opportunity to capitalise on the heightened news agenda following the general election.
The move follows GNM stablemate The Observer reintroducing for one issue its recently axed standalone Business section around the general election.