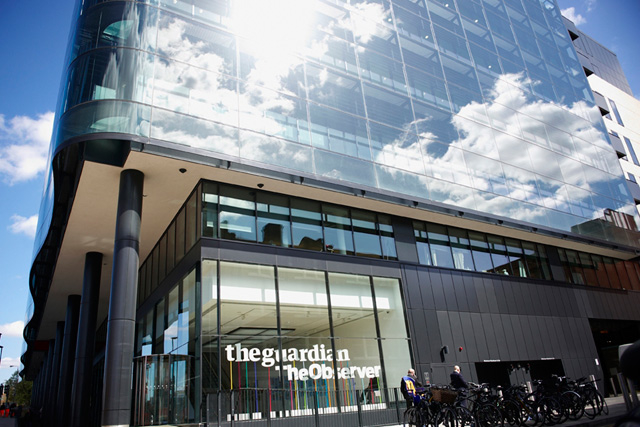 The financial figure for the publisher represents a 27 per cent reduction in the £26.6 million losses (restated from £30.9m to exclude Kable following sale) filed a year earlier. At the statutory reported level, EBITA improved by £3.2m after accounting for a number of one-off items.
Before excluding one-off charges, including charges relating to the launch of Guardian Australia, GNM posted a loss before interest, tax and amortisation of £30.6m.
Revenue for GNM increased seven per cent to £210.2 million. An additional £13.6 million generated from digital revenues across the group, to £69.5 million, offset falls in its print business. It follows GNM cutting annual losses by 30 per cent in 2011/2012.
The annual results published today mark the third year of a five-year transformation programme, aimed at turning the traditional newspaper publisher into an open, global multimedia news operation, as detailed by chief executive Andrew Miller.
Reporting the results, the CEO did sound a note of caution and signalled further reductions were necessary this year.
He said: "In the current year, we must focus relentlessly on reducing underlying operating losses at Guardian News & Media, which continues to be impacted by the volatile trading conditions and structural changes weeping the newspaper industry."
GMG riding high
Today's report also confirms the financial health of GNM parent Guardian Media Group (GMG) is the most robust it has been for a generation, following the sale of its 50.1 per cent stake in Trader Media Group at the start of 2014.
GMG posted pre-tax profits of £549.2 million for the 12-month period. Proceeds from the Trader Media sale resulted in a threefold increase in its cash and investment fund to £842.7 million.
Miller said: "We successfully completed the divestment of Trader Media in a transaction that will sustain our finances for generations to come. This significant deal has coincided with an encouraging increase in underlying revenues, particularly from digital activities."
Neil Berkett, chair of GMG, concluded: "The latest full-year results show that GMG is well on track with its five-year transformation plan. Whilst we have strengthened our financial resources significantly with the Trader Media transaction, the group has generated strong digital-revenue growth and broadly flat print revenue.
"Our underlying performance is improving amid continued cost discipline, improved audience reach and innovation in award winning editorial products."
Guardian expands
Notable highlights for the group in the year include the launch of Guardian Australia in May 2013. The site claims to have a reach of around 5.6 million unique browsers, making it the third most-read quality newspaper website in Australia.
Guardian US, launched in 2012, is reported to have delivered record online traffic in 2013 with more than 20 million unique monthly users (ComScore), representing year-on-year growth of 12 per cent.
GMG declined to provide further financial details, but revenues from US operations were said to have "more than doubled" in the year.

In April, The Guardian was awarded the highest accolade in US journalism, winning the Pulitzer Prize with the Washington Post for public service for its articles on the National Security Agency's surveillance activities, based on the leaks of Edward Snowden.