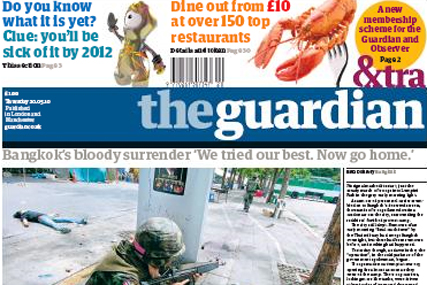 The GN&M scheme is called "Extra" and will offer its readers a range of benefits for subscribers to The Guardian and The Observer.
GN&M has tied up with National Portrait Gallery, Eden Project, English National Opera and Tate Britain for the scheme, which will offer benefits include attending exclusive events and special offers.
Members of the scheme will also be given access to the newspaper group's newsrooms, including interviews with its journalists.
A dedicated web page at Guardian.co.uk/extra will showcase the latest offers, events and competitions for members as well as providing an opportunity for feedback and suggestions.
There will also be a dedicated 'Extra' section in both The Guardian and The Observer each week.
Current subscribers to the Guardian and the Observer will automatically join the scheme as part of their package.
The scheme offers a free trial for readers registering before 31 August 2010. Annual membership for non-subscribers after 31 August will be £25.
Newspaper publishers have looked to heavily invest in membership schemes as a means to lock in long-term readers. News International and Telegraph Group have both launched high-profile schemes in recent years.