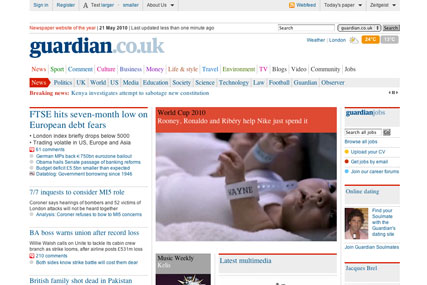 In a presentation at the Omniture Summit EMEA 2010, Tim Gentry, The Guardian's head of optimization and effectiveness, said the publisher had no plans to implement online registration, because such a move "could push away a lot of our audience".

The Guardian's vow not to seek online registration comes as the paper reported that DMGT, the Daily Mail's parent, has pledged to eschew The Times' paywall strategy, due for launch in June, and remain largely free.

In a talk that focused on targeting ads online, Gentry revealed The Guardian, which attracts 33 million unique visitors a month, was using Omniture's website measurement tool SiteCatalyst, and Audience Science's 'Discovery' technology to create "more interesting" audience segments to which advertisers could target ads.

He also said that the forthcoming EU directive covering online privacy was "a challenge" for publishers such as Guardian News & Media. "How we do behavioural targeting within [this] new legal framework will be interesting," Gentry said. "We remain an opt-out organisation, rather than opt-in," he added.

At the same conference, attended by 1,200 delegates from around the world, Adobe and Omniture – developers of SiteCatalyst and Test&Target – unveiled their first major integrated product following acquisition of Omniture by Adobe last year.

An integrated suite combining Omniture measurement and optimisation software with Adobe's creative tools such as InDesign and Photoshop, is "now shipping" to clients, the company said.

The new product, called Adobe Creative Suite 5 or CS5, incorporates Omniture's web analytical tools with Adobe's online design tools such as Flash.
Read more on Brand Republic
Guardian editor forecasts 'vault of darkness' for The Times