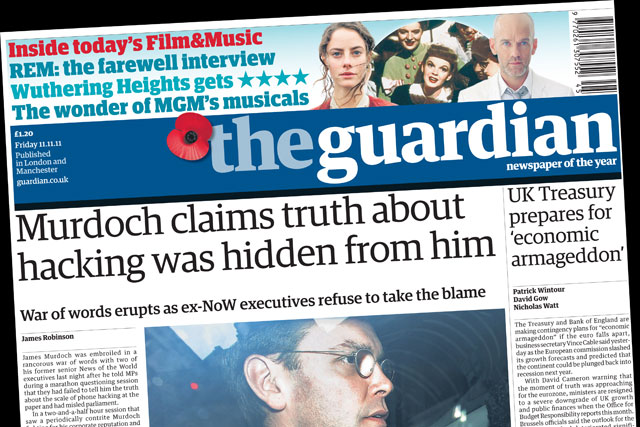 October's circulation figures for national newspapers reveal that the Guardian's October circulation dipped 0.87%, a loss of 2,025 circulation, on the previous month to an average circulation of 230,541.
The Guardian upped its weekday cover price from £1 to £1.20 on 19 September, so October marks its first full month at the new price. In September it dropped less than 9,000 copies.
The Daily Mail, meanwhile, slipped back 0.52% to 1,198,363, its lowest circulation since December 1995.
The big winner in October, on the face of it, was the 20p priced i newspaper, up 14.68% on the previous month to an average circulation of 211,467.
But the uplift is part of a strategy shift at Independent Newspapers Limited, the Alexander Lebedev-owned company which owns the i and sister title The Independent.
Independent Newspapers Limited is shifting bulk copies, given away free on airlines, trains and in hotels, away from the Independent and onto the i.
In October, the i added 34,324 bulks onto its headline circulation. In September, it added just 8,242.
In contrast, the company is pulling thousands of bulks from The Independent.
The reasoning is that executives want to broaden the appeal of the i, which is currently only sold in retail while trying to position The Independent as its premium product.
Across the rest of the national newspaper market, the red-tops were all down on September. Richard Desmond's Daily Star was the biggest faller, dropping 3.31% to 658,690.
The Daily Express nudged south 0.50% to 614,534.
Follow John Reynolds on Twitter @johnreynolds10