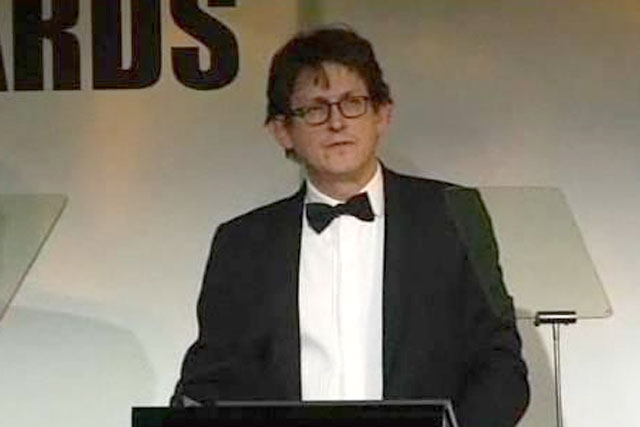 The British Press Awards accolade, at London's Savoy Hotel, comes despite Guardian News & Media (GNM) cutting more than 100 jobs to stem losses of around £100,000 per day, going into 2010.
A turbulent 2010 for parent GMG included the departure of chief executive Carolyn McCall after 24 years, and the disposal of "non-core" assets, including GMG Regional Media.
However, The Guardian's influence and coverage continues to punch well above its official circulation, which in February averaged 262, 612 copies.
The Guardian's non-metered website has helped propel the brand's reach to being second only to Mail Online in the UK, and one of the biggest English-language news sites in the world.
Accepting the award on behalf of The Guardian, Alan Rusbridger, editor-in-chief, drew attention to the Wikileaks story and the plight of Julian Assange and his US informant Bradley Manning.
He said: "It's far too early to say what effect the story had on events in the Middle East and North Africa, but I would guess it would have had some effect."
In a loaded acceptance speech, Rusbridger admitted the Guardian has "had our ups and downs" with Assange, and called him "an interesting man, a brilliant man, and a difficult man", but he urged for restraint from the US authorities.
With the backdrop of Manning being held as a military prison since his arrest in May 2010, Rusbridger said: "The reason that we went to the New York Times with that story to share it with them is mainly because of the First Amendment, which is the gold standard of free speech anywhere around the world.
"The eyes of the world will be on how America reacts. I just very much hope that they don't go for him in the way that has been suggested and hope very much that they treat Bradley Manning properly. I think we should remember those two men, particularly Bradley Manning, tonight."
Also on the night, Associated received recognition for Mail Online, named Digital Innovation of the Year. The website now receives more than 50m unique users per month and has led the way in incorporating social networks into the site. More than 10% of its UK traffic is now directly attributed to Facebook.
The British Press Awards is the annual celebration of the very best in journalism across the national press, honouring journalists and newspapers for more than 30 years.
The judging process involves more than 100 of the UK's leading journalists – made up of a mixture of independent figures from across the industry and representatives of all the UK national titles. Further information about the awards can be found at www.britishpressawards.com.

Press Awards 2011: The full list of winners

Young journalist of the year: Matt Sandy, Mail on Sunday
Highly commended: Adam Gabbatt, The Guardian
Business and finance journalist of the year: David Robertson, The Times
Highly commended: Tony Barber, Financial Times
Political journalist of the year: Andrew Sparrow, The Guardian
Highly commended: Peter Oborne, Daily Telegraph
Foreign reporter of the year: Charles Clover, Financial Times
Highly commended: Richard Jones, Mail on Sunday
Showbiz reporter of the year: Stephen Moyes, News of the World
Specialist journalist of the year: Brian Deer, Sunday Times
Critic of the year: Caitlin Moran, The Times
Photographer of the year: Matt Cardy, Getty Images
Sports photographer of the year: Mark Pain, Mail on Sunday
Highly commended: John Giles, Press Association
Cartoonist of the year: Peter Brookes, The Times
Highly commended: Nick Garland, Daily Telegraph
Sports journalist of the year: James Lawton, The Independent
Highly commended: Simon Mullock, Sunday Mirror
Interviewer of the year: Caitlin Moran, The Times
Feature writer of the year: Amelia Gentleman, The Guardian
Highly commended: David Cohen, London Evening Standard
Columnist of the year: Matthew Parris, The Times
News reporter of the year: Mazher Mahmood, News of the World
Special supplement of the year: World Cup 2010 Guide, The Guardian
Digital innovation of the year: Mail Online
Regular supplement of the year: Fabulous, News of the World
Cudlipp award: The Dispossessed, London Evening Standard
Campaign of the year: The Dispossessed, London Evening Standard
Front page of the year: Pinickio, Daily Mirror
Scoop of the year: Cricket corruption, News of the World
International journalist of the year: Ibrahim Essa, Editor, Al-Dustour
Journalists' Charity special award: Canon David Meara, Archdeacon of London and Rector of St Bride's
Newspaper of the year: The Guardian