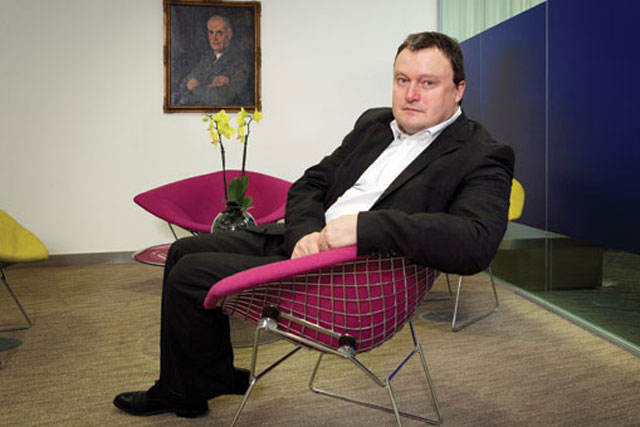 Guardian Media Group, which owns 50.1% of Trader Media Group, 32.9% of Top Right Group, and Guardian News & Media, reported profits before tax of £22.7m for the year to 31 March, 2013.
It represents a significant improvement on the £75.6m losses reported in 2012, primarily due to a £54.2m write-off of the value of GMG Radio, which runs the Smooth and Real station brands.
GMG enjoyed a further boost from the £29.5m sale by Top Right Group of its automotive industry information provider CAP.
Once the financial performance of the radio operation – which was sold to Global Radio for £70m in mid 2012 – is stripped out, GMG's total revenues remained flat at £206m.
Guardian News & Media (GNM), home to The Guardian and Observer newsbrands, managed to curtail its annual losses from £44.2 million a year ago to £30.9 million in the period.
GMG's performance was enough for Miller to receive more than £100,000 in performance related pay for the financial year, increasing his annual remuneration to £769,000, up from £739,000 in 2012.
Miller said: "The financial impact of our digital-first strategy, launched two years ago, is clearly demonstrated in our performance in 2012/13.
"A sharp increase In the contribution of our digital operations to revenue was a striking feature, enabling a modest increase in overall Group revenues. Having committed to digital earlier than our peers, we are now reaping the benefits.
"There was a significant reduction in losses at Guardian News & Media (GNM), as it completed the second year of its five-year transformation programme. The reduction in losses would have been even greater, had we not chosen to invest a significant proportion of the efficiency savings in new developments.
"Investing in the future is a key part of our strategy for this news organisation – every bit as important as the target of taking £25 million out of the cost base by the end of 2015/16. Thus far, we are meeting or exceeding all our targets in this respect.
"The contribution of our portfolio companies – Trader Media Group and Top Right Group – amounted to £73 million in the year. Their performance, together with that of our cash and investment fund, is vital in giving us the headroom to allow the newspapers to take full advantage of the opportunities offered by digital, and to develop the Guardian brand on a global scale."
Stuart Taylor receives £1.33m pay-off
Also in today's annual report, it was revealed that the former GMG Radio chief executive Stuart Taylor, now CEO of WPP's outdoor specialist Kinetic, received a total pay-off of £1.33m last year.

Taylor's pay included a £710,000 "transaction bonus" from the group, following the £70 million sale of GMG Radio's assets to Global Radio in June 2012. He also received £509,000 for loss of office when he left GMG and more than £100,000 in salary and pension payments.