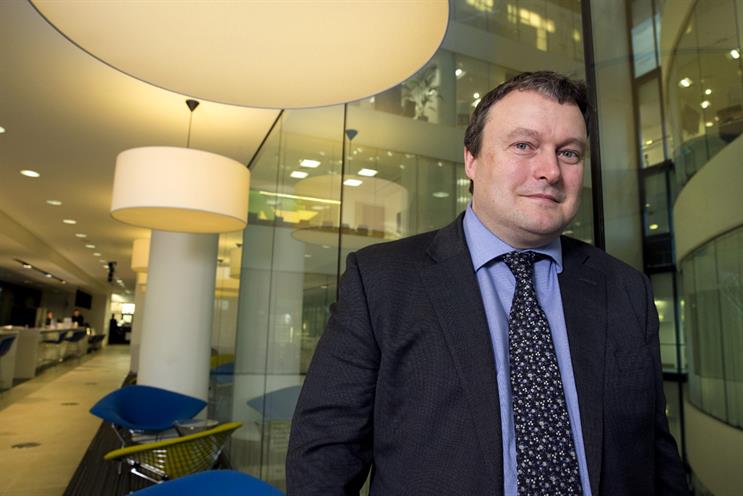 It was exactly a year ago when Andrew Miller, the chief executive of Guardian Media Group, came under a ferocious attack over the logic of pursuing a free, digital model from his counterpart over at arch-rival, News UK.
"Too risky", "heavily loss-making" and "jeopardising to the overall business", Mike Darcey declared. News UK's leader had prioritised making content for The Sun, like its Times stablemate, available to paying subscribers-only after taking the helm of Rupert Murdoch's newspaper empire a year earlier.
The Guardian and The Observer had just reported annual losses of £31 million, despite reaching 80 million monthly unique browsers. It led to the publisher's "open" strategy being criticised for cannibalising its print business while forcing theguardian.com to battle with the web's pure-play giants in the volatile digital advertising market.
Darcey's comments were all the more loaded for being made in The Guardian's own backyard – at its Kings Place headquarters in London – while sitting on stage next to Miller. On a giant screen above their heads beamed an illustration by the Times cartoonist David Haldane that depicted The Guardian as a soup kitchen offering free meal tickets to a crowd of waifs and strays.
Miller had stood firm and reminded the audience that his job, first and foremost, is to keep The Guardian going in perpetuity. He underlined the strengths of the "open" strategy – as espoused by the editor-in-chief, Alan Rusbridger – by noting it was attracting five million unique browsers a day, which in turn was driving new revenues.
It all made for great theatre. But the showdown went beyond Miller and Darcey, and even The Guardian and The Times. It went to the heart of the debate about the best way to secure a future for journalism in the digital age.
'Following the reader is the only idea'
Speaking one year on, in his third-floor corner office overlooking Regent's Canal and with the clock counting down to his planned exit from the company, Miller is more convinced than ever about The Guardian's direction. The site now attracts more than eight million unique daily browsers and 120 million uniques a month. Things move fast in digital media.
"Following the reader is the only idea," Miller says. "Because if you don't follow where people are consuming their media, then you won't be relevant. And if you're not relevant, then you don't have a business model.
"It's about realising the opportunity digital gives a company. You won't get that reach behind a paywall. You have to go after reach, then build engagement, then monetise it."
His comments will not be lost on those working at The Sun. They have spent the past year watching Trinity Mirror, home to its tabloid rival the Daily Mirror, get its digital act together and achieve a 90 per cent lift in unique monthly browsers to 73 million. Digital revenues have risen 50 per cent to £32 million.
GMG is on track for its third year of revenue growth. Unaudited figures for the financial year, published this week, show an estimated 3 per cent rise in revenue to more than £215 million. Growth has been driven by a forecast 20 per cent lift in digital to more than £80 million.
It's a turnaround from the situation Miller walked into five years earlier. Following the global downturn in 2008, The Guardian's public-sector recruitment revenue – which had generated £100 million two years earlier – disappeared overnight.
By the summer of 2010, the division that housed The Guardian had spent the preceding 12 months haemorrhaging up to £100,000 a day. By the end of his first year, Miller was forced to publicly sound the emergency alarm. He warned that the group could run out of cash in three to five years without a "major transformation" and stressed that "doing nothing was no longer an option".
Selling GMG's assets
Miller's no-nonsense approach did little to calm the nerves of staff – especially once the process of "delayering" started to materialise – but it was, he argues, essential.
"We were in a very tricky situation. Our revenues were going backwards, our cash was being utilised at too high a value and the assets we were in were difficult joint ventures," he says. "Remember, this was the time of Lehman Brothers, when there were a lot of questions over the value of assets."
Despite the headwinds, Miller paved the way for the sale of GMG Radio and its regional press business, as well as a refinancing of Emap, which became Top Right Group. He then took direct management of The Guardian after the exit of Guardian News & Media's managing director, Tim Brooks, and drew on his experience with Auto Trader ten years earlier to refocus the group as a digital-first operation.
Since then, the company has hovered close to every revenue target in his five-year plan. The ambition is to hit £100 million in digital revenues by 2016. But, for all the transformation, Miller will be remembered most for the sale of GMG's 50.1 per cent stake in Trader Media Group for £600 million last year.
Once the chief financial officer of TMG, Miller knew the numbers and the business better than anyone. Who better to sell it? The blockbuster deal shifted The Guardian's positioning overnight. Talk of terminal decline switched to long-term investment. It meant that, during Miller's tenure, The Scott Trust's bank balance swelled to more than £800 million.
Praise for the understated Scot
Miller personally pocketed a tidy £1.4 million bonus from the deal, but it was money well-earned – at least according to Douglas McCabe, the chief executive of Enders Analysis.
"It's easy to underrate the job he has done," McCabe points out. "He has been subtle but a real cultural force for good. He has unambiguously backed the digital strategy and secured The Guardian's financial footing while not breaking its culture."
Miller has also played a key role in positioning The Guardian as an international operation, opening offices in the US and Australia that now employ about 100 and 70 staff respectively. There are already more readers coming from the US than the UK, and the size of the ad market presents plenty of opportunity for financial growth.
Those who work for him talk of a likeable, goals-oriented man with a highly rational mind. Maybe it's his Scottish frankness or clear articulation, but despite having made almost 200 roles redundant during his tenure, staff are said to intuitively trust him.
And for all his success in handling the group's finances and strategic transformation, the thing Miller says he is most proud of, in true Guardianista-style, is the journalism that Rusbridger's team has been able to produce during his tenure. The trained accountant singles out working with 600 plus passionate and challenging journalists in what he admits can be a "powder keg of a business" as "the most fun part" of his journey from finance man to publishing CEO.
He adds: "When other people have been retrenching, we've done WikiLeaks, phone-hacking, Edward Snowden and, most recently, HSBC. Ultimately, that's what we're about. As corny as it sounds, that's why I jumped at the chance to do this role; it was the opportunity to do something really, really important.
"In a commercial sense, I just saw the opportunity. People want organisations like ours who are willing to challenge authority and hold people to account. And if I have played a small part in that, then I think that's a great thing."
Miller is the first to admit that there remains plenty of work to be done. As a daily printed product, The Guardian's average circulation has tumbled 35 per cent since he walked through the doors of Kings Place, equating to some 100,000 copies. Despite the fall being largely in-line with the wider market, many agree with the7stars' head of strategy, Dino Myers-Lampty, when he calls the current circulation of 175,000 (and just 145,000 Monday-Friday) "worryingly low".
However, the media strategist notes the commercial team put together by Miller's deputy chief executive, David Pemsel, has made significant gains in converting advertisers and their agencies onto the Guardian's "audiences not platforms" philosophy.
Despite the circulation drops, print ad revenues appear to have held up relatively well, falling just 12 per cent in the five years, to around £80 million. Miller says that while the US and Australia operations have helped realise what a digital pure-play version of the Guardian looks and feels like, domestically print remains "an absolute core part" of the operation.
Going forward, there's not much family silver left to be sold, apart from a stake in Top Right Group. The outgoing chief concedes that pre-tax losses remain "too high", at £30 million, and points to some "significant investment" plans over the next couple of years to make The Guardian self-sustaining: from its membership drive to investment in video and further international expansion.
These will inevitably contribute to even greater losses in the short-term, but it's the sort of head room afforded by £800 million in the bank generating up to 5 per cent interest.
As for his own exit on 30 June, 48 year old Miller feels it is the right time to step down with the upcoming change of editor. He says the two positions are closely "interlinked" and the company would benefit from having a "fresh look" at the top.
He has no role to go to yet but insists: "I'm going to take my time. I'm fascinated by the tech content space. A lot of the creative ideas are coming from the States. But I'm going to work it out in the coming months."
And so begins the long goodbye for GMG's chief executive. Whether you prefer to put Miller's five-year leadership record down to lucky timing, good fortune or acute financial savvy, there's no denying its success. Being the man in charge of running a soup kitchen of a publishing business has never looked so good.