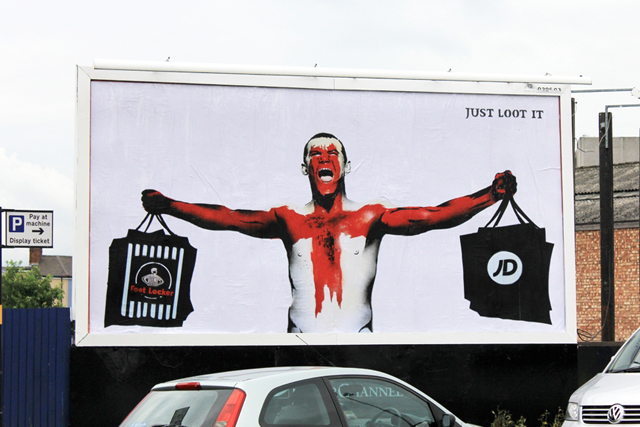 The 'Brandalism' campaign has been covering Clear Channel, JCDecaux and Primesight outdoor spaces with their guerrilla art, which incorporates brands Nike, Footlocker, JD Sports, McDonald's and Locog, among others, into the replacement work.
The group claims the strict enforcement of branding regulations for the London 2012 Olympics for commercial interests has been a strong part of provoking their reaction.
The group have completed a postering road-trip of five cities over five days, ending in London this week. They have installed 35 anti-advertising artworks across Leeds, Manchester, Birmingham, Bristol and the capital.
Their images include a parody of Nike's ads, in which Wayne Rooney holds up a Footlocker bag underneath the strapline: "Just loot it".
The work comments on a range of social issues including debt, the environment, body image, consumerism, cultural values and the UK riots from last summer.
The group also cited Government reports on the 2011 riots and think tank reports on the ethical debates surrounding advertising and its impact on cultural values as further references.
Robert Graysford, a member of the group, said, "We've taken over these billboards because the advertising industry takes no responsibility for the messages they force-feed us every day. They claim to give us choice but we have no choice to 'opt out' from these intrusions into our public and personal spaces.
"We're lab rats for ad execs who exploit our fears and insecurities through consumerism. I'm a human being, not a consumer. So by taking these billboards, we are taking these spaces back. If Sao Paolo in Brazil can ban all outdoor advertising, so can we."
The artists include Ron English, Robert Montgomery, Broken Fingaz, Know Hope and Paul Insect.
Follow @loullamae_es