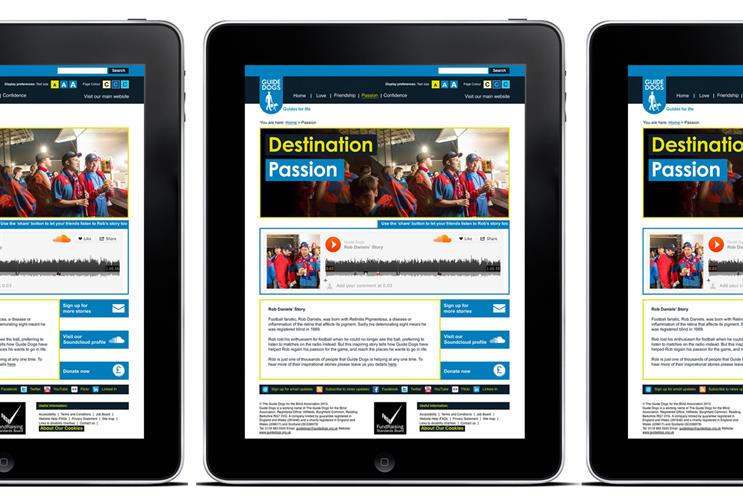 Created by MBA, which won the Guide Dogs account in February, the campaign features the new line, 'Guides For Life' and is based around a series of real-life audio stories from beneficiaries of the charity, who narrate their personal experience to show how Guide Dogs improved their quality of life.
MBA has developed a mobile-optimised site to enable users to access and share the audio stories on social media networks such as Facebook and Twitter, as well as via the online audio distribution platform, Soundcloud.
This is supported by outdoor activity include billboards in London Underground stations, which contain QR codes that direct viewers to the Guide Dogs website and related audio stories.
As part of the launch mix, MBA is setting up a "sensory tunnel" at Waterloo on Friday 7 June, where commuters can opt to go through a sound tunnel and experience what it is like to be blind, and to find out how Guide Dogs can assist in the situation. At the other end of the tunnel, screens will be available for visitors to tweet and share their experience.
Stephen Maher, the chief executive officer, MBA, said: "We are enormously proud of this campaign, using social media to amplify awareness and build engagement was critical. Guide Dogs is such a great organisation and this campaign will do a lot to raise awareness of all the great services they provide".
Debbie Leighton is the campaign copywriter, while Graham Kerr and Troy Farnworth are art directors. Davies Prince is the media buying and planning agency.