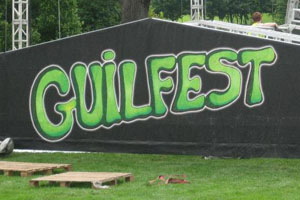 GuilFest was held for 21 years at Stoke Park before organiser Scotty Events went into liquidation in 2012. The company said poor ticket sales led to it going bust.
Major promoter Live Nation will now hold a replacement event on the same site from 13-14 July, with a family focus similar to GuilFest.
Tony Scott from Scotty Events said he had hoped to resurrect GuilFest and was disappointed by the council's decision. He said in a statement: "We are surprised and saddened to hear that Guildford Borough Council has agreed to let Live Nation host a music event on Stoke Park this summer. We'd hoped after discussions at the end of last year between Guildford Borough Council and ourselves, there may have been the possibility for us to put on another "GuilFest mark 2" in the summer but with this news it seems this will no longer be possible. We really hope that this wont be the end and that in the near future we will be back with another festival."
The statement received mixed response on GuilFest's Facebook page, with many followers expressing sadness and others supporting the council's decision.
Festival follower Keith Mullin posted that GuilFest needed to be "saved" from Live Nation, while Craig McDermott posted: "Many [people are] missing the point here. Scotty Events went in to liquidation... did you expect the council to let them start up again under another company name? You can see why the council are giving it to another company to run."
Live Nation confirmed it was been in talks with the council to bring a new, family-focused event to Stoke Park on in July in association with Magic FM.
Guilford Borough Council told Event: "When Scotty Events Ltd, organiser of GuilFest, went into liquidation in 2012, Guildford lost a family-focused event that supported local acts. It was extremely popular for over 20 years and attracted thousands of visitors to the town. We hope to see a new event at Stoke Park in the future. We are currently in discussions with a potential operator for summer 2013."
Comment below and let us know what you think.
For more in-depth and print-only features, showcases and interviews with world-leading brands, don't miss the next issue of Event magazine by subscribing here.
Follow @LouiseRidley