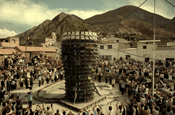 The agencies are battling for the creative account to promote the brewer's 250th birthday, which it will celebrate in December 2009.
The global Guinness account is shared between the networks, with Saatchis holding the business in Asia, Africa and South America, and BBDO running the account in the UK, Ireland and North America.
The strategy to promote the birthday celebrations will be the main driver for most of the company's communications next year in the lead-up to the event, but it has yet to formalise plans.
Jonnie Cahill, the global marketing manager for Guinness, said: "We're currently looking at a number of options to establish the most appropriate way to commemorate the landmark.
"It will definitely be a full year of celebrations, with campaigns to match that, throughout the whole of 2009."
It is unknown whether the pitch will lead to a bigger global pitch for the entire Guinness account, but senior Diageo marketing executives are understood to be increasingly concerned about falling Guinness sales in key markets, including the UK.
In July this year, Diageo consolidated its global digital marketing activity for Guinness into Tribal DDB.
Guinness' most recent campaign was the Abbott Mead Vickers BBDO-created "tipping point", which consisted of an online treasure hunt and a 60-second TV ad. Guinness ploughed £10 million into the work, the most money it has invested in a single campaign in its history.