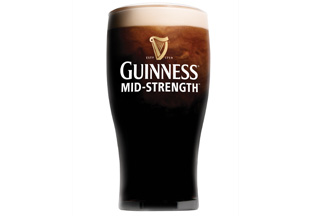 From today 13 selected pubs, bars and hotels in Fife and Edinburgh will trial the stout which has the same taste and texture of Guinness but a lower alcohol level of 2.8%, compared to the regular drink's 4.1%. The new drink contains just water, yeast, hops and barley but has less units of alcohol (1.6 units per pint).

The trial is Diageo's latest commitment to the Scottish Government and Alcohol Industry Partnership and Fife Alcohol Partnership projects. The Partnership brings together the Scottish Government and members of the alcohol industry to pilot and evaluate a range of approaches to tackling alcohol related harm. It is hoped that the experience and lessons from the Partnership's activities in Fife will offer valuable learnings for the rest of Scotland.

Scottish health secretary Nicola Sturgeon said: 'Giving consumers this kind of choice is crucial in creating a culture where it's acceptable and normal to opt for lower-alcohol products.'

The introduction in Fife and Edinburgh follows similar trials in Limerick and Dublin.