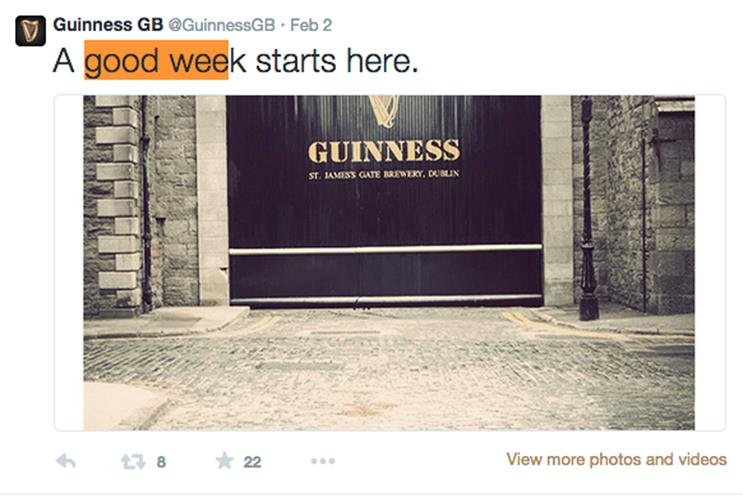 The brewer's Twitter account, @guinnessgb, posted a black and white picture of its brewery gates in Dublin along with the message "a good week starts here".
The tweet fitted with an existing campaign by Guinness, worked on by Abbott Mead Vickers BBDO and Quaker City Mercantile, which championed the people who work within the stout maker's brewery.
But the charity Alcohol Concern complained that the message breached the Council of Advertising Code by implying someone's week would be improved by drinking alcohol.
The ASA sided with Guinness, noting that the tweet did not feature any alcoholic drinks, did not refer to a social event and clearly pictured the Guinness brewery, not a bar. They said it was also significant that the message was tweeted on a Monday.
As a result, the ASA held that the ad was "likely to be interpreted as having a dual meaning: as an expression of opinion from those who worked at the brewery about the week of work ahead and their enjoyment of their work; and as an indication to the public that Guinness, which began its journey to them at the brewery, could be consumed as part of a 'good week'".
According to the ASA's judgment, "Twitter stated they would not comment on the complaint, but confirmed they had not received any complaints about the tweet."