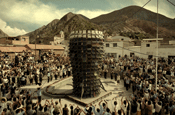 The work, which was preceded by a web-based treasure hunt that asked users to solve tasks and reveal short clips of the ad before it airs, has a £10 million budget, the largest ever for a Guinness ad.

The TV execution is based around a giant domino rally, which includes books, grandfather clocks, burning hay bails and tyres, and works its way through an Argentinian mountainside village.

It ends when a huge pint of Guinness, made out of books, is "poured" out as pages flip open to reveal the drink's black-and-white colours.

The TV ad was created by Abbott Mead Vickers BBDO, with digital through iChameleon@AMV.