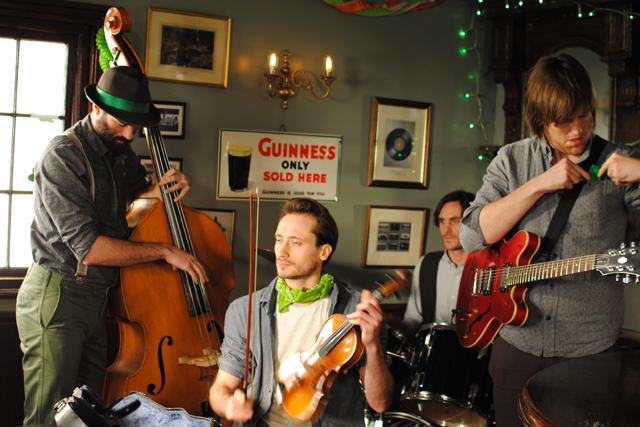 The 'Paint the Town Black' activity, which will peak on the weekend of 16 and 17 March, will run across TV, outdoor, digital and social. PR and point-of-sale will also form part of the marketing mix.
One strand of the activity will allow Facebook fans of the Diageo-owned brand to create a personalised video. By using Google Maps and Facebook, the app aggregates a fan's images and location, to cast them in a film trailer about a "great Guinness-inspired night out" that they can then share with their friends as an invitation to celebrate St Patrick's weekend together.
Set in the bar from TV comedy 'Only Fools and Horses' and narrated with a blockbuster voiceover, the film culminates in a series of unexpected bursts of black paint, covering everyone inside the pub.
During the St Patrick's weekend itself, a Guinness Photo app will also give consumers the chance of winning a trip to Dublin with their friends to celebrate The Gathering 2013, a year-long celebration of Ireland and its people.
Oliver Loomes, Guinness global brand director, said: "As a platform, 'Paint The Town Black' has so much creative potential, and it is completely unique to and 'ownable' for Guinness, thanks to the beer's highly distinctive and intriguing colour."
The global campaign was created by Saatchi & Saatchi London, with Tribal DDB London developing the digital components. Saatchi & Saatchi X London and Ogilvy PR London handled the point of sale and PR work respectively.