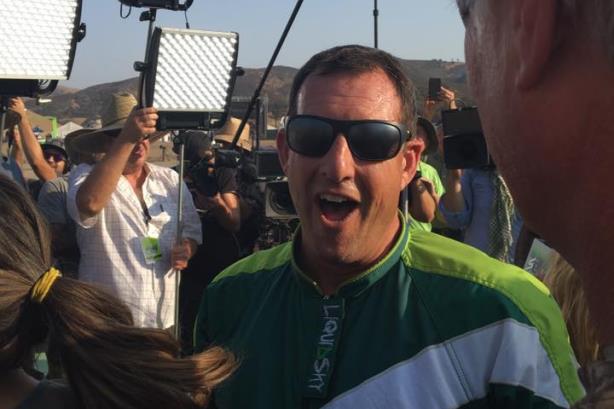 DEERFIELD, IL: Luke Aikins set the world record for highest jump without a parachute this weekend, and Stride gum was behind the stunt.
Broadcast live on Fox on Saturday night, the U.S.-based skydiver jumped from 25,000 feet above California's Simi Valley without a parachute, landing safely in a 100-foot-by-100-foot, two-tiered net in an event called Stride Gum Presents Heaven Sent.
Laura Henderson, global head of content and media monetization at Stride parent Mondelez International, said the company got on-board with the stunt a year and a half ago, when it was approached by ad agency Amusement Park.
"When it was brought to us, we were looking for a way to launch our new Stride gum, whose brand identity is that it's 'mad intense,'" said Henderson. "We knew that Heaven Sent would be one of the most mad intense stunts ever attempted, and it was the perfect embodiment of what new Stride gum is all about."
Mondelez worked with its consumer PR agency Hunter Public Relations, as well as Amusement Park's comms team and Fox PR, to generate media excitement, explained Henderson. Their efforts included creating special experiences for journalists to connect with Aikins to get a sense of what his challenge would be like.
"We held a media day at a skydiving simulator in Los Angeles, and [granted] special early access to the Heaven Sent site in Simi Valley, California," said Henderson. "These ended up generating tremendous media attention for us in the days leading up to the broadcast, and since [Aikins'] historic jump, the media interest and coverage has been global and unprecedented."
A dedicated Tumblr page at strideheavensent.com was also set up, and Stride's "spokes-character," The Mouth, live-tweeted the event from the @StrideGum account using the hashtag #StrideHeavenSent. The brand also set up exclusive, behind-the-scenes interviews on Facebook Live.
.@LukeAikins is thinking: "Here we go, 25,000 feet" "Whoops, forgot my keys." HE JUST JUMPED #StrideHeavenSent

— STRIDE gum (@stridegum) July 31, 2016
Aikins has also posted about the jump on his own social media accounts.
Henderson said the stunt has generated more than 700 press hits and 500 million impressions internationally.
"Heaven Sent was something that had never been done before," she said. "For a brand to dive into TV production and to do it live, covering the most dangerous skydiving stunt ever performed, certainly created unique challenges. There were many moments when the broadcast almost didn't happen."
Henderson added that Stride prepared for "inherent risks," but didn't provide further comment.
"We always had full confidence in [Aiken's] ability to do this jump safely, otherwise we never would have partnered with him," she said.
Earlier this year, Mondelez created a new media-monetization model, with the company focusing on developing bigger and bolder content for its brands.
"Heaven Sent is obviously part of this bigger, bolder new strategy," said Henderson. "We're trying to create quality standalone content that earns attention and won't just be ad-blocked or skipped."