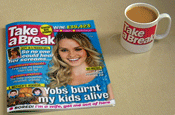 However, the new inhouse team with be run as a separate sales team to Bauer Consumer Media sales, which handles sales for the magazine titles and radio stations recently acquired from Emap.

Simon Young, the managing director of TPC will move over to Bauer to head the in-house sales operation as managing director of HBP media sales.

Bauer said that the ending of the agreement with TPC is part of a corporate policy across its international markets to bring sales inhouse. A 20-strong team from TPC will transfer over to Bauer's Camden offices to run sales across titles including Take a Break, that's life! And TV Choice.

David Goodchild, the managing director of H Bauer Publishing, said: "We have worked very closely with The Publishing Consultancy for over 20 years in the UK and have enjoyed a very successful relationship.

"The move to bring advertising sales internally will provide a greater focus and closer ties to all our advertising clients."