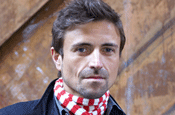 Moseley, who has been at W&K Amsterdam for three years as executive creative director, joins following last week's appointment of Greg Grimmer.

Like Grimmer, he will receive an undisclosed sum of equity in exchange for investment in the fledgling agency and have his name above the door - though the new name itself is yet to be decided.

Moseley, a copywriter by trade, has been charged with raising the agency's creative profile in keeping with its co-founders' strategy of integrating creative across channels with media planning and buying.

Moseley is planning to recruit creatives from across disciplines and from international agencies.

At W&K Amsterdam, he was responsible for some of the agency's most high-profile work for Nike, EA Games and Coca-Cola, including its latest global "happiness" campaign.

Before that, he worked at Mother for two years on accounts including Boots and Orange, and also worked as a creative director at TBWA\London, where he first met Neil Dawson.

Until now, much of Hurrell and Dawson's creative work has been overseen by Shaun McIlrath, the former founder of Heresy, who joined H&D at its launch last year.

Dawson said: "Al is the natural creative figurehead for our new model agency. His passion for ideas is matched by his ability to think across channels without prejudice. His track record in some of the best creative agencies in the world speaks for itself. We're delighted to have him on board."

Moseley added: "The unique vision of the agency is what has attracted me to return to the UK. This is a wonderful opportunity to work with and build a team of diverse backgrounds within a single agency."