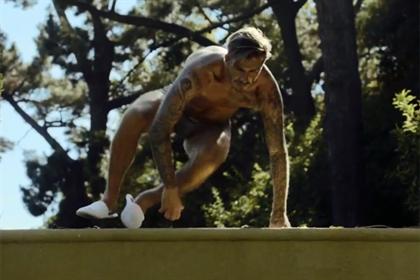 Ads for the fashion retailer, featured three times in the top 10 chart, were shared 1.2 million times, and soaked up 53% of the shares from the top 10.
In second place, Pepsi racked up 737,606 (32%) shares from Becks across two ads in the chart, whilst adidas, featured three times, managed just 194,872 shares (8%).
Burger King and Samsung are the only other brands to feature in the 10 most-shared Beckham ads, with 85,497 and 65,556 shares, respectively.
The most-shared ad is Beckham's most recent ad installment for H&M. Directed by Guy Ritchie, the ad sees Beckham running through streets and gardens, gradually losing clothes as he goes. He ends in only his boxer shorts.
Only five of the ads focus on Beckham's skills as a footballer.
The chart, compiled by Unruly, ranks ads by the number of times they have been shared across Facebook, Twitter and the blogosphere.
1. H&M "spring 2013" by Marc Atlan Design
908,611 shares all time shares this week
All time: 908,611 shares
2. Pepsi "3 balls into a trash can" by TBWA/Chiat Day LA
680,333 shares all time

3. H&M "who's an amateur?" created in-house
191,168 shares all time

4. H&M "Super Bowl commercial with David Beckham" by Mother
126,626 shares all time

5. Adidas "all in" by H&K Strategies/10Group
93,501 shares all time shares

6. Burger King "David Beckham"
85,497 shares all time shares
7. Samsung "Beckham plays Beethoven" by Cheil
65,556 shares all time shares
8. Pepsi "medieval fight"
57,273 shares all time shares
9. adidas "#takethestage photobooth"
52,916 shares all time shares
10. adidas "jose+10 adidas commercial 1& 2 (complete)"
48,455 shares all time shares