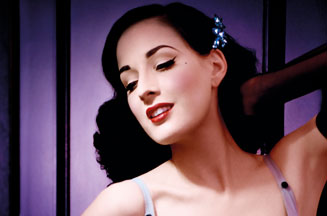 The designs will be Eighties-themed and feature grafitti-like prints. T-shirts will carry slogans including 'Protection Is Power' designed by Roisin Murphy, 'Imagine Peace' designed by Yoko Ono and a design showing a pair of red lips and an arched brow from Dita Von Teese.

This is the second year that H&M has teamed up with the organisation Designers Against Aids to spread the message of safe sex to young people. Twenty-five percent of the sales price will be donated to youth HIV/Aids awareness projects. The collection, which is for both men and women, will go on sale in H&M from 28 May.
The retailer's summer clothing line will launch this week. It will feature designs from a high profile designer. Guest designers in the past have included Karl Lagerfeld and Stella McCartney.