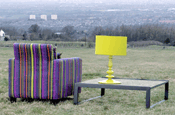 The review is being handled by Haystack.

The brief includes online advertising and strategy development as well as technical development of its existing websites.

The company, which has had a web presence for ten years, is looking to improve the online experience of its consumers and make the purchasing system much more user-friendly.

It is also looking to improve click-through rates to the site from its advertising.

Agencies will have to prove that they have relevant experience in retail advertising.

They must also demonstrate an in-depth knowledge of customer service applications such as store finders, payment calculators and order/collection systems, as well as an ability to work with existing online architecture and technology.

Habitat is a UK-based international retailer with operations in the UK, France, Spain and Germany, in addition to a large distribution network of retail partners.

It is part of the Ikano Group, which is privately owned by Ingvar Kamprad, the founder of Ikea.

The Habitat business was founded in 1964 by Terence Conran, who opened the first store in Chelsea to sell his range of summer furniture.