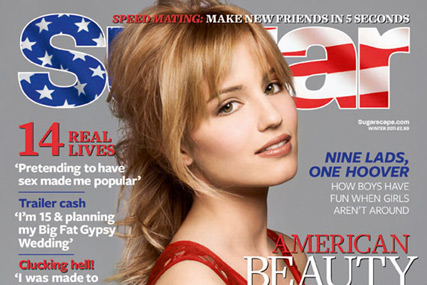 Sugar has steadily lost more than half of its paying readers throughout the past five years, with circulation falling from 250,099 to 113,320, according to ABC figures. Taken over the last decade, the magazine's circulation has tumbled 75%.
The monthly title, which launched in October 1994, only underwent its latest redesign in December's issue. The revamp included a larger format and improved paperstock.
The final monthly edition will be the March issue, available on the newsstands from 23 February. A Sugar Beauty Special will be published on 13 April.
Today's announcement comes as Lagardère, the giant French conglomerate behind Hachette Filipacchi, moves closer to finalising a deal with Hearst Corporation for the sale of its international magazine portfolio.
A spokeswoman for Hachette Filipaachi said: "The decision has been taken in response to the fundamental shift in the nature of the teen publishing marketplace.
"Over the past decade the teen magazine market has declined by 75% as teens spend their media time on mobile and web platforms and increasingly expect to receive content for free."
Hachette Filipacchi has entered a period of consultation with the Sugar print editorial and advertising teams and said it "intends to do its utmost to redeploy staff".
Rita Lewis, the publisher of Sugar, Elle and Elle Decoration, is understood to not be under consultation.
It is not known whether editor Annabel Brog has a new job within the company.
Sugar employees are also being encouraged to apply for current vacancies within the company.
Lewis said: "It is with great regret that we have had to announce the closure of Sugar magazine. It has had a fabulous history and some of the finest talent in media has worked on it over the years.
"I would like to personally thank the current team led by Annabel Brog for working tirelessly during increasingly difficult times.
"While, as publishers, we recognise reluctantly that Sugar magazine is no longer a viable business, we are pleased to be able to continue to invest in Sugarscape.com which delivers a healthy return, underpinning our decision to focus on the digital platform."
Hachette said it would now be focusing its energies on Sugar's website Sugarscape.com which launched in 2007.
Like the magazine, the site supplies support, assistance and reassurance to teenage girls.
The company's spokesperson said: "The site has seen sustained growth during the years since its launch and now has 430k unique users – a 53% increase over the past year."