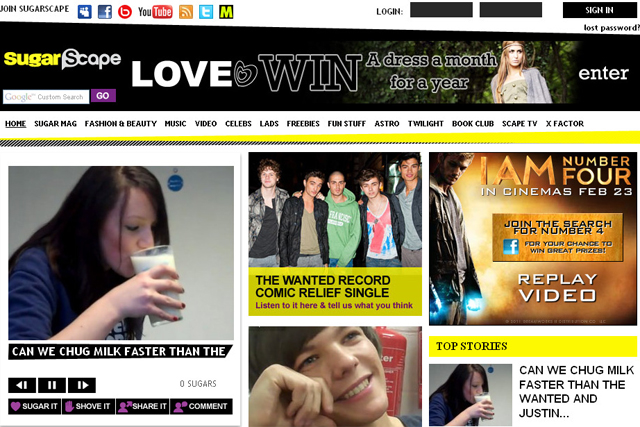 The publisher has ramped up its investment in the online brand at a time when it is in the process of closing the printed edition.
Sugarscape will become a standalone title when Sugar magazine publishes its final issue in April.
The site, which according to unofficial figures from the publisher recorded over three million impressions last month, has been redesigned with a leading yellow palette, which replaces its pink theme.
Sugarscape has also launched Scape TV, which streams video interviews of celebrities, and is launching a partnership deal at the end of the month with Shopstyle, a company licensed to sell fashion brands online.
The partnership deal will run under the "shop" tag. Visitors will be to create a look before deciding to purchase it. It is the first time fashion has been available to buy on the site.
The Sugarscape team of six has also expanded with the addition of two members from the print title – Kate Lucey, intern, and Cari Thomas, junior writer.
The website, which launched in 2007 in Sugar's 12th year, is described by the publisher as "a leading lifestyle destination site for young people".
Mango Saul, Sugarscape's editor, said the website "is attracting a wider youth audience". A Hachette Filipacchi spokeswoman said the site attracts readers aged 14- to 24-years-old, while the printed edition's average reader is 16.
The site allows users to comment, share recommendations and interact with each other and the Sugarscape team, and "reflects the site's more diverse youth audience".
It has also boosted its social media focus by introducing competitions on the Twitter page exclusively for Sugarscape tweeters.
Anna Jones, digital and strategy director at Hachette Filipacchi, said: "As the site prepares to go it alone, it was ready for a make-over that would reflect the broader youth audience we have reached through the digital incarnation of the Sugar brand.
"We feel confident that the new look will have greater appeal to our users and deliver even greater results for our advertisers."