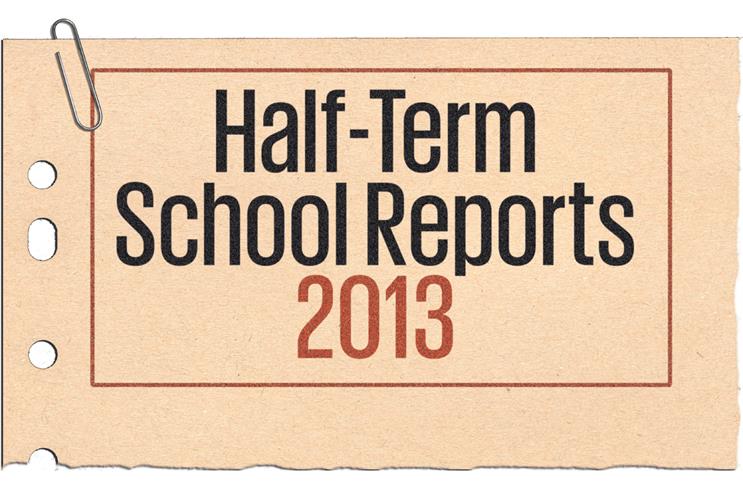 Much like children at a primary school sports day, everyone appears to be a winner in this year's inaugural Campaign Half-Term School Reports.
Aside from a minority of refreshingly honest submissions from humble entrants, the mass selective amnesia and creative gilding of the lily were of course perfectly understandable, given that the submissions will not undergo the deep scrutiny and rigour of the full-year school reports in early 2014.
They therefore should not necessarily be taken at face value – some, after all, were blatant exercises in papering over the cracks. But perhaps they also represent an underlying optimism in agencies' performance and a feeling that they are over the worst of the recession and enter the rest of the year with their collective tails lifted high. If this is the case, then they are to be supported.
These half-term reports welcome some hitherto unseen agencies that have caught our eye either through the work they have created or the business they have won. Broadening out the school reports beyond the same old names from the advertising/media/digital/direct axis is further evidence of the diversification of agencies in their offering. It is also testament to the healthy culture of plucky independents that sometimes look thwarted by the big four (and soon to be big three).
Start-ups – in particular Joint (pictured, above), which awarded itself an unprecedented ten out of ten (one of only two agencies to do so; the other being AKQA) – also came out bullishly. As with all the self-penned reports, it is up to their peers to decide whether such confidence is truly justified. Either way, it is heartening to see there is fire in the bellies and that a preponderance on new-business wins – an effective but admittedly blunt tool to judge an agency's performance – is quite rightly not the only metric with which success can be judged.
While Cannes was largely a flat experience for UK agencies, with a couple of exceptions such as Ogilvy & Mather for its Expedia and Dove work, the eye-watering range of awards that were entered also shows that UK creativity is alive and breathing (if not yet kicking) across a range of sectors and platforms – despite what the naysayers may whisper from time to time.
In a new twist, agencies were invited to select what they thought were their Pick and Turkey of the year to date. VCCP's "be more dog" for O2 was the punters' choice, followed by Bartle Bogle Hegarty's "one woman, a nation divided" press ad for The Guardian. While "be more dog" broke too late to be able to make an appearance at some of the awards shows at the end of this year, the Guardian press ad looks likely to carry on scooping accolades and awards. Tango's "argh!", also by BBH, proved popular in the list and Mother's "make more of your gardens" for Ikea also deserves an honourable mention.
At the other end of the scale, this straw poll of the industry's top 100-odd media and ad agencies revealed that JWT London's "scrunch or fold" campaign for Andrex left many people cold and was Turkey of the year to date, closely followed by Havas Worldwide London's "123 account" for Santander.
Y&R Paris' spot for Colgate, which asked "Is there blood?", was not far behind, while Albion London's Wonga puppets were also identified as a potential candidate for Turkey of the Year. That said, the year is young and there is plenty of time for new ads to become available for consideration.
So what else did we learn from a quick dipstick into the UK ad industry's 2013 (other than that most agencies think they are worth a pleasing seven out of ten and that Hello People found one of its new-business prospects thwarted by a masturbating tramp)? Competition remains intense, the hatches have been unbattened and there's a pleasingly diverse range of work being produced from an even more pleasingly diverse range of agencies.
What's more, all of the write-ups talk of optimism and big hopes for the remainder of the year. Naturally, some of this will be ephemeral wishful thinking and some will sadly come to nothing, but if just a fraction of this hope translates into great advertising and continued business success, then perhaps the year will be judged to have been a successful and interesting one for many. After too many years of gloom, this should be celebrated. And with so much to play for still, there's plenty of time for clear winners to emerge, sorting the school swots from the classroom dunces.