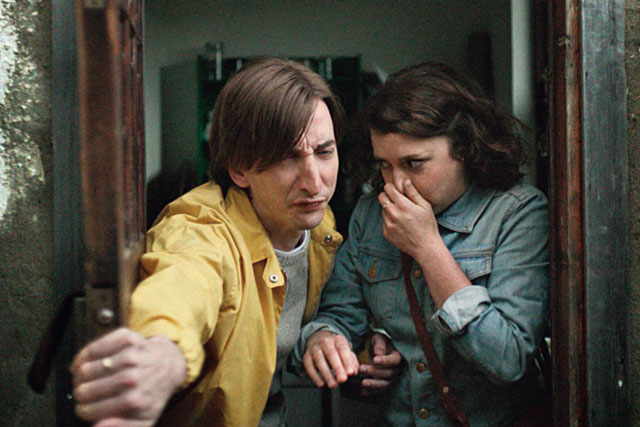 They will have been moved not by the sheer positive emotion of the film, but because they had previously secured the services of Adam & Eve, the agency responsible for creating it.
'I want one of those!' must have been the cry that went out from those at Halifax, and they partially got it. The third ad to spring from the loins of the Halifax-Adam & Eve love-in couldn't be less like a typical bank ad if it tried - and that's a good thing.
Banks are hardly consumers' best friends at the moment, so the challenge here, of getting people leaning forward, reappraising and trusting a financial-services brand again, must at first have seemed insurmountable. It was overcome by dressing the brand in the clothes of something else entirely.
Watching this ad is, I imagine, a bit like being politely mugged by a granny, whose floral skirts and cerise cardigan hide the fact that she is actually tooled up. It has all the innocence and allure of the John Lewis ad, but there's more. For a start, the hero of the ad is its 'Home Finder' app, which affords the opportunity to create empathy with consumers by depicting those nightmarish house-hunting scenarios to which we can all relate.
There are clever touches throughout - the slow motion, some comedy moments, the wink of the invidious estate agent (and if you want to cast bankers in a sympathetic light, what better way than to offer up an estate agent by way of comparison?).
The ad manages to share a wry smile with consumers, and plants emotional anchors that draw them closer, when, wham, we're hit about the head with harsh reality as one of the house-hunters whips out her smartphone and demonstrates the app's features. It helps Halifax to substantiate its key customer service claim, but the showcasing of the product is a jolt, and not the only one.
Once the happy couple have found their dream home, the ad segues into a shot of the Halifax Community Choir singing Foreigner's I Want to Know What Love Is, as they have been there, unseen, all along. Halifax might have wanted 'a John Lewis', but it clearly didn't want to squander the gazillions it has invested in its historic advertising heartland - the staff starring in the ads.
This ad is a story of three parts - the John Lewis-esque beginning, the product showcase, and the Halifax employees having a bit of a sing-song.
It is, nonetheless, a considered evolution of Halifax's 'The people who give you extra' strategy and for a financial-services brand in a hostile environment, it does a pretty good job.
Brand strategy verdict: 7 out of 10
A financial-services ad that feels like something entirely different. Given the backdrop, this is a welcome departure from previous expressions of Halifax's brand strategy.
Adwatch (Oct 3) Top 20 recall: Halifax
Latest
rank
Sep-26
Brand

Agency/TV Buyer

Recall
1
(–)
Virgin Media
Bartle Bogle
Hegarty/Fifty6
54
2
(–)
Sky
WCRS/MediaCom
49
3
(–)
Oreo
Draftfcb/PHD
39
4=
(–)
Halifax Adam & Eve DDB/MEC
38
4=
(–)
DFS
Krow/MediaCom
38
6
(–)
Direct Line
M&C Saatchi/
MediaCom
33
7
(–)
Tesco
The Red Brick
Road/Initiative
32
8
-6
Comet
Havas Worldwide London/
ZenithOptimedia
29
9=
(–)
Listerine
JWT London/
Carat
27
9=
-2
Asda
Saatchi &
Saatchi/Carat
27
11=
(–)
Disneyland Paris
BETC London/
Carat
25
11=
(–)
Nationwide
18 Feet &
Rising/MPG
25
13
(13=)
Harveys
HMDG/
MediaVest
24
14
(–)
Boots No7
Mother/
OMD UK
23
15=
(–)
TRESemmé
Mullen, FBH Incite/
Mindshare
22
15=
-19
Currys/PC World
M&C Saatchi/
Walker Media
22
17=
(15=)
Morrisons
DLKW Lowe/MEC
21
17=
(–)
McDonald's
Leo Burnett/
OMD UK
21
19=
(–)
De Agostini
Sassy Films/
Carat
20
17=
(–)
Zoopla
VCCP Blue/
Vizeum
19