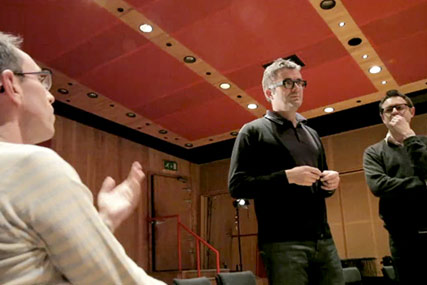 An independent producer who worked with the agency during the pitch – using the online username "Angry Sumo" – seeded two videos on the video-sharing website Vimeo earlier this week, which showed agency staff and researchers talking through their ideas for Halifax.
Continuing the theme of singing in Halifax ads, the videos show a pitch idea of "community choirs", with Adam & Eve's idea being that Halifax would choose staff from its branches around the country to form community choirs to sing songs.
In the first video, Adam & Eve's founders James Murphy, David Golding and Ben Priest are shown discussing the values of community choirs, while in the second, Roger McKerr, the founder of the research company Davies + McKerr, talks about why the idea will work for the brand.
According to Adam & Eve, the concept is just one of several of ideas submitted during the pitch and, since it won the account, a number of potential creative routes have been put into research.
Vimeo has now permanently deleted both videos, but not before the spots had been distributed around the advertising world.
Halifax appointed Adam & Eve to its £25 million account last week, after a pitch that involved Abbott Mead Vickers BBDO and Rainey Kelly Campbell Roalfe/Y&R.