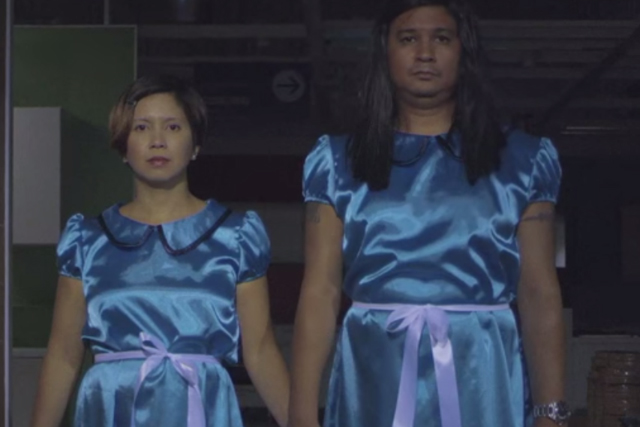 Marketing has already run a piece about the scariest ads of all time. However, we thought we'd look at some of the activity being done by brands for this year's celebration of the supernatural. In no particular order, here's a selection. Happy Halloween!
Ikea
This ad for Ikea by BBH Singapore is our favourite of all the Halloween offerings we've seen. It quite brilliantly pays tribute to Stanley Kubrick's spine-tingler, 'The Shining'.
Instead of a boy on a trike pedalling around a deserted hotel, it has a boy on a trike pedalling around a deserted Ikea store. Creepy and funny, with lovely little details such as the Steadicam camera movement that was pioneering when the original film was made, the blink-and-you'll-miss-it "Redrum" reference and the "Come pay with us" play on words.
Sainsbury's
Sainsbury's has launched an iOS and Android app designed to help kids bring its scary costumes to life. The 'Spooky Speaker' app, created by AnalogFolk London, uses voice distortion technology to transform speech, coupled with an animated mouth to help children 'become' their Halloween characters.
The app is being promoted via digital and print ads, on social media and in-store. Here's a video explaining it:
Tesco
Tesco is facing a lot of scary issues at the moment, so perhaps this is why this tweet promoting its "fabulous kitchenware", well, isn't that scary.
If you ask us, Halloween is just another excuse to show off our fabulous kitchenware. http://t.co/6a8rEchQvL pic.twitter.com/mL5mZv2SSS

— Tesco Living (@TescoLiving) October 24, 2014
Ford
Ford in the US had car passengers scared out of their wits in a prank that saw a normal-looking carwash invaded by the undead. Personally, we found the morose carwash staff scarier pre-reveal. The resulting prank has been captured on film.
Tunepics
This is bordering on insanity. Tunepics founder Justin Cooke has launched a range of nifty, limited edition Halloween filters that lets users add creepy effects to their photos, which they can then post alongside their favourite tracks, whether that's Michael Jackson's seminal 'Thriller' or Cliff Richard's not so seminal 'Devil Woman'.
The best #Halloween Tunics will be "re-tuned" on Tunepics' global page.
Here's a spooked-up image and promoted Vampire Weekend track by celeb Kate Bosworth.
Asda
Asda and its agency VCCP have created a humorous Halloween ad called 'Halloween - Blow Me Away' in which a family decked in vampire garb arrives at the door of another family. "Woah, what a frightful family," intones the voice-over. "Oh blow me away - inflatable wings!"
The ad ends promoting Asda's "hundreds of tricks and treats for just £1" and the "You're better off at" line curling into a befanged vampire grin. It was created by Ilana Salem and Janetta Lewin.
O2
Hats (and heads) off to VCCP for getting another of its clients into the spirit of All Hallows'. This time it's mobile operator O2, for which VCCP Kin has created an 'O2 Possessed' haunted house experience using connected Samsung devices and other smart tech to monitor visitors' heart rates, create lighting effects and film their experiences.
The experience is taking place in a house in London's Shoreditch, a killing ground for celebrated serial killer Jack The Ripper. Guests include winners of a social media-driven competition and O2's Priority customers.
Oreo
Mondelez's Oreo brand has launched a US digital campaign called 'Laboratorium', with an art style reminiscnent of classic 1980s UK claymation series 'The Trap Door'. Agency 360i has created a mini-series of stop-motion animations starring a cute group of little monsters called "Nomsters".
Fans are being asked to name each of the creatures in the build-up to Halloween, which are appearing in bite-sized videos.
Subway
Not all Halloween ads have delighted viewers. One in particular has managed to only frighten sensibilities. In the US, sandwich chain Subway angered many with an ad in which a woman highlights the health and low-fat qualities of Subway's subs, allowing her to stay trim and fit into sexy Halloween costumes.
That bastion of feminism The Daily Mail even waded in with a story.
Subway was clearly suitably chastised and removed the video from its YouTube channel. Here's a version still live:
Vytautas Mineral Water
While this ad for Lithuanian water brand Vytautas is also undeniably sexist in a manner reminiscent of the titilation of the ''Carry on...' films, it does at least have the decency to be completely bonkers, and quite gory to boot. Created, by agency Superior, it has to be seen to be believed.
Groupon
Online coupon brand is offering its customers the chance to win a 'Trick or Treat', with over 100 loo rolls and tubs of Haribo being offered up. So far, Groupon has sold over 20,000 bids.
Groupon said it has already sold over 20,000 bids for this. "You can decide for yourselves which is the trick and which is the treat" explains the offer.

Samsung
Samsung played a zombie prank on customers at its Westfield store, to promote its Curved UHD TV. Unsuspecting shoppers where helped by a female sales assistant, who encouraged them to look closely at the impressive resolution on a display TV. As their attention was distracted, the original sales assistant did a quick swap with a zombiefied doppelganger. Cue much screaming.
Mr Kipling
JWT London has taken the knife to a Cherry Bakewell, cut it in half and cleverly created a pair of demon eyes because "Trick or treating is better with cake".
Chupa Chups
Another gem from BBH Singapore, this spot references Japanese horror 'Ringu', 'Friday the 13th' and (weirdly) 'Rambo'. The ad is designed to get consumers joining the "quest to rescue Lolli from the haunted house".
Read next