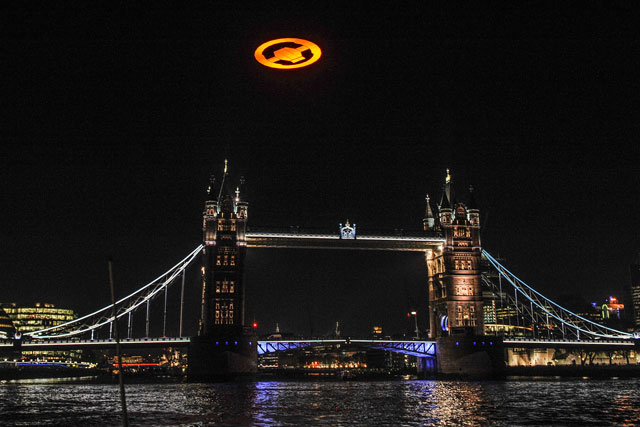 Suspended from a helicopter, the symbol flew over the River Thames from Greenwich Peninsula to Tower Bridge, as part of a project led by AKQA.

Chris Lewis, vice president, interactive entertainment business at Microsoft EMEA, said: "'Halo' launches are renowned for being entertainment game-changers and we are back with our most ambitious projects to date."

"The Glyph flyover makes the seemingly impossible world of science fiction a reality, a 50 foot symbol of the Didact hovering in the skies of a major capital city, seems a fitting way to herald the next chapter of this phenomenal blockbuster franchise."

Fans were able to buy the game at midnight openings in 40 countries at more than 10,000 stores including more than 350 locations in UK, including the flagship event at GAME Westfield Stratford.
Marketing activity for Halo is backed by record levels of marketing investment for the launch of an Xbox game, according to Andy Irving, the brand's UK senior product manager.
A 60-second TV spot, produced by David Fincher, director of The Social Network, broke in October, while a second ad, using consumers' Facebook information, is to run on Channel 4.

Last week the Halo universe was recreated in Liechtenstein by transforming major landmarks including the 13th century Gutenberg Castle and a working mine.