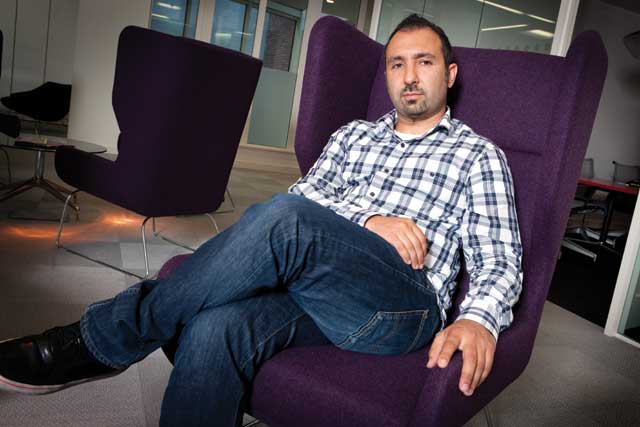 Media planning is not quite in critical condition, but it seems to be searching for its role amid the trading desks and real-time evangelists.
Inspired thinking is perhaps less achievable due to the frenetic pace of the decision-making process at media agencies and the rebadging and packaging of services to reflect the wealth of technology at their disposal.
MPG Media Contacts, the agency previously known as Media Planning Group, has been exposed to this due to its relative strength in digital. Like Bruce Wayne strapping on his armour, the Havas-owned shop has created what seems like an impenetrable structure that caters for clients' digital needs.
In December last year, it restructured to build impetus behind its "meaningful brands" positioning with the creation of three divisions, including Catalyst, an intelligence and strategy team. This 30-strong unit was boosted by the hiring in February of Hamid Habib, previously the head of strategy at Zenith Media, as the managing partner. The appointment seemed an attempt to build on the passion of its chief executive, Marc Mendoza, and planning reputation of the chief strategy officer, Marie Oldham, who now has a less hands-on role focusing on key clients.
It would be unfair to label Habib a throwback, but he's a big personality who believes in the value of creative ideas in media. MPG hasn't been afraid to push the creative button previously - bringing in PHD's founder Jonathan Durden as a roving creative director before he left the agency a couple of years ago. The senior planners Dan Hagen and Martyn Stokes have also moved to pastures new, causing the agency to seek planning talent from outside.
"We cast the net far and wide, looking for someone who broke the mould. It was a surprise to hire somebody from a media agency - our preconceptions were that we'd hire somebody from a creative agency," Mendoza says. "Hamid's genuinely a nice person - he's creative and has a great way about him. He gets other people to do their job better and if there's a new way of approaching things, he'll find it."
Culture is important to Mendoza and he says that Habib passed the "plane test" with himself, the managing director, Paul Frampton, and Oldham. They each asked themselves if they would like to sit next to Habib for the entirety of a transatlantic flight. A firm "yes" was the answer from all.
MPG has recently lost one of the accounts - the BBC - on which its planning reputation was anchored, but Habib is keener to point to his involvement in new-business success with Land Securities and interesting work for EDF Energy and Nationwide.
"I'd like MPG to be recognised. It's brilliant digitally, but I want to be recognised as brilliant creatively," he says. "There's this idea that ad agencies are where creativity happens, but we've got the data and technology, so nailing creative would make us unstoppable. We're halfway there."
Habib's background and professional experience are varied. His parents are from Iran and he was brought up in Manchester, Newcastle and then Surrey. He first studied psychiatry before making a living in events as a co-founder of the Plastic People nightclub, which is still run by a close friend of Habib's. He worked at Red Rooster PR, then as a marketer at MTV and Nickelodeon, where the enthusiastic Habib says he learned to curb his epic five-page client briefs to two pages.
He then moved to ZenithOptimedia, where he worked at its Open and Newcast units and latterly as the head of strategy at Zenith. Former colleagues continue to talk in impressed tones of a Channel 4 mini-series he helped to co-create on behalf of O2.
Gerry Boyle, ZenithOptimedia's chief executive, says of Habib: "He's a really lateral thinker and approaches problems from a fresh angle all the time. He brought a culture of creativity and, above all, is a vibrant personality with opinions that are hugely infectious."
Boyle adds: "He combines a good ethic with creativity."
Others say that, while this is the case, Habib is not necessarily a details man. "He's not the greatest strategic thinker in the world. He's an ideas guy," one former colleague claims. "He'll have big ideas and explore them, but ask him to write a 2012 strategy plan for a client and it'll take him six months."
That said, Lucy Banks, the executive creative director at Bauer Media and a former Zenith colleague, argues: "Over time, he honed his innate creativity to become a more thoughtful and strategically effective planner. He used to work on a lot of our pitches and was a standout success."
She continues: "There are a lot of people who can do the detail - and I'd say a lot less who can deliver that inspirational spark. And pairing up Hamid with the more rigorous strategists within an agency or business would make for brilliantly effective, channelled creativity."
Habib seems to recognise this. When talking about the changing role of the planning leader, he says: "The days of the lone genius are not over; there are always spectacular people, but you need to be supported by other specialist people."
This view fits with the broader MPG plan, but Mendoza concedes that it has some ground to gain: "When you run an agency, you're forever looking at what you do and what's not so good. We're very hard on ourselves and would admit that we've not been as creative as we could be."
Catalyst is a word that has, in other sectors, been hijacked by the technologists. Yet it describes perfectly what Habib brings to the MPG table and its corridors will certainly feel his energy.
THE LOWDOWN
Age: 37
Lives: Hove
Family: Engaged to Lucie. Son Archie (three-and-a-half) and daughter Polly (two). Both very, very mischievous
Interests outside work: Losing at squash to Greg Grimmer. Bastard
Favourite music: Reggae at the moment because the sun is shining. But I also love soul, old hip hop and house
Last book read: The Complete Stories by Isaac Asimov
Desert island luxury: A selection of Ibizan restaurants and clubs
Motto: If you laugh for at least an hour a day, you'll stay young forever.
Follow @Darbs73