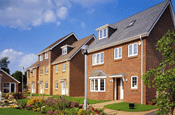 According to Nielsen Media Research, Hamptons spent around £1 million on media last year, mainly on local press advertising.

However, the company is now understood to be planning to increase its spend substantially.

In 2000, Hamptons appoin-ted BLM to handle its media business, then worth £4 million, without a pitch, but it moved the main account in-house in 2001.

The company also uses some local agencies, including Aylesworth Fleming, to handle media tasks for individual offices.

Hamptons International's core business is the sales and letting of residential and development property in the UK. It has a network of 70 offices, focused mainly in the south of England.

At the moment, Hamptons is fighting to retain its market share in what is a jittery property market.