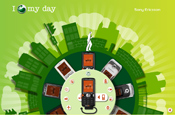 Sony Ericsson has boosted its marketing spend by more than 40%, while rival Nokia has upped its spend by a quarter, according to Nielsen Media Research. Elsewhere, Motorola has increased its spend by almost 10%, while the launch of the Apple iPhone has brought almost £8m of promotional spend to the market.
In particular, Sony Ericsson is dedicating more of its marketing spend to pre-pay phones, despite the fact that mobile operators do not subsidise these products for their customers. The shift reflects the growth of the pay-as-you-go market as consumers seek ways to reduce their spending as financial pressures increase.
Dave Hilton, UK marketing manager at Sony Ericsson, said: 'Previously, marketing activity has been much more focused on acquisition, but now we have an interesting commercial dilemma as we need to support the operators' focus on customer retention.'
Hilton added that Sony Ericsson will 'significantly increase' its marketing spend again this year.
Sony Ericsson - which has seen the most significant boost in marketing spend - is to launch 30 new handset models this year and a third sub-brand, Xperia, in a bid to stave off competition from Apple's iPhone.
However, the brand will also continue to develop flagship technology products with the launch of a third sub-brand in the third quarter of the year. The brand - which currently markets the Walkman and Cybershot handset brands - will launch the Xperia brand in the UK in the third quarter of the year.
The phone will focus on 'entertainment experience' and software, incorporating a mental sliding windows mobile device. 'Software is increasingly key in this market,' says Hilton 'GPS is definitely taking off - just as we have seen that you no longer need a separate MP3 player and phone the same could be said of GPS.'
However, according to Hilton, they will not be launching a new phone simply to take on the iphone. 'The iphone is a flagship technology product but we don't feel we need to respond directly - we already have the Walkman brand.' According to Hilton video and gaming will be key areas of growth moving forward.
In a bid to further differentiate itself from the competition Sony Ericsson is to increase its investment in events and digital marketing. This week the group will launch its latest camera phone - the Cybershot C902 - with a TV, press, outdoor and online campaign.
Handset brands' adspend, 2007-08
Nokia £16.55m
Sony Ericsson £14.00m
Samsung £9.63m
Apple £7.83m
Motorola £7.75m
Source: Nielsen Media Research