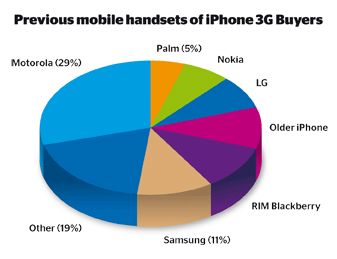 According to Nielsen's Q2 2009 Mobile Insights Survey, almost a third (29.4 per cent) of iPhone buyers upgrade from Motorola handsets, particularly the RAZR.

Around 11 per cent of iPhone 3G buyers are ditching Samsung phones, while a further 9 per cent are upgrading from RIM BlackBerry devices.

Just 5 per cent of mobile users are binning Palm handsets in favour of the iPhone, while 9 per cent of consumers are upgrading from 'older' handsets.

As well as its sleek design, improved functionality and wealth of apps, faster mobile internet access is one of the key reasons users are upgrading to the iPhone.

Recent research shows that iPhone users now browse the mobile internet more frequently than they read newspapers, listen to the radio or watch TV.

A study from AdMob shows that 58 per cent of iPhone users now surf the mobile web more regularly than they read the print version of newspapers, listen to the radio (45.7 per cent) or even watch TV (32.7 per cent).