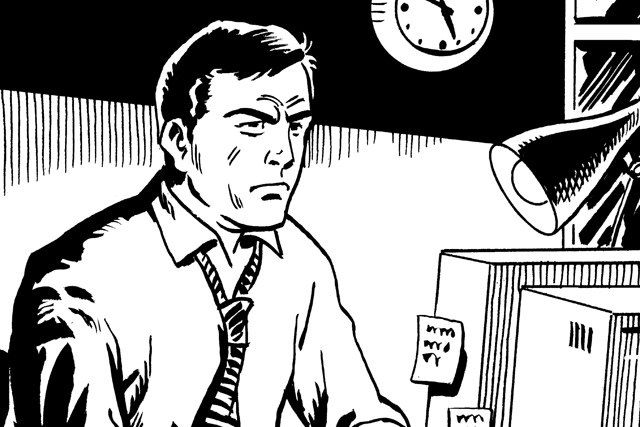 A colleague recently interviewed a man who claimed he was 'too busy to go the toilet'. What does he do? Is he the president of the US, a leading scientist, or Claire Danes' character in Homeland, perhaps? Is the future happiness of the human race in his hands? Actually, he works in strategy at an advertising agency.
This man has succumbed to the pursuit that has almost replaced the British obsession with the weather in some circles - the 'busy-off'. This is where executives compete to declare themselves the most starved of time - and, by association, the most important.
From the size of their inbox (massive) to the length of their chatter on just how busy they are (constant) the busy-off is a drain on the creative economy. By the logic of the busy-off, not only is it socially acceptable to boast that you do not have time to go to the toilet, it does not single you out as an idiot incapable of managing your own time - or bladder.
Working long, late and loudly alongside a constant stream of consciousness via email are the core traits of the busy-off. At the same time, the gap between output and input within UK plc continues to grow.
Against this backdrop, it is little wonder that 'millennials' are so frustrated with the somewhat turgid rate of change in the UK workplace. New research from MTV on the growth of 'no-collar workers' shows that those entering the workplace are distinctly frustrated by the lack of flexibility.
Ajaz Ahmed, founder and chairman of AKQA, says there is a whole generation that is confused as to why things are going backward when they go into an office, whereas their experience outside is more streamlined, efficient and focused.
We are at a pivotal point in corporate history, where students can educate teachers. Here's hoping this next generation can educate the existing establishment on better ways of working, and leave the hyperbole of the busy-off behind.
THE UPSHOT
What marketers should know about no-collar workers
- Quality not quantity
Millennials work when they want to - 81% believe they should be allowed to make their own hours at work. Remote working is standard; as long as the work gets done, time spent in the office should not matter. This is a generation focused on quality of output, rather than keeping up appearances.
- No respect for titles
Millennials are not impressed by the titles, positions and politics of the hierarchical corporate world. They advocate an 'idiocracy' under which good ideas trump elaborate job titles.
- Deserving recognition
Corporations relying on the idea that young people are lucky to have a job are well out of touch, with 92% believing their company is lucky to have them as an employee. Eight out of 10 millennials believe they deserve more recognition for their work and more than half of them want feedback at least weekly.
- Teachers not pupils
Sooner or later, millennials will reshape the workplace. They are tech-savvy, entrepreneurial and collaborative, with 76% thinking that their bosses could learn a lot from them.
Nicola Clark is Marketing's head of features. Follow her on Twitter: @nickykc.