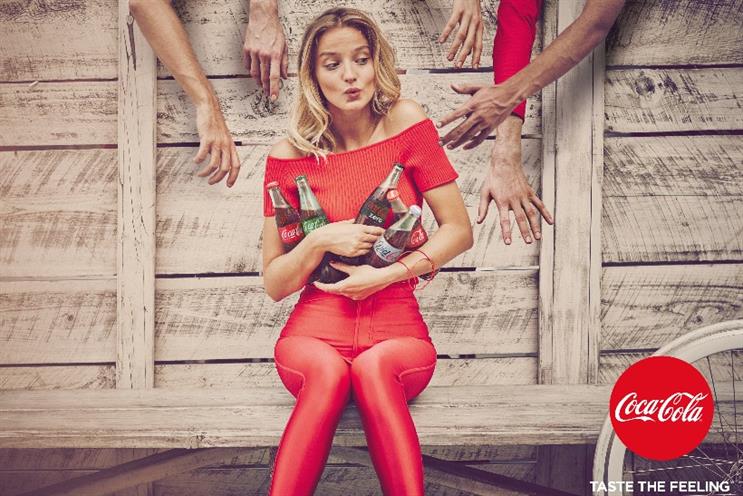 The company has ditched its 'Open happiness' tagline, in place since 2009, for 'Taste the feeling', which puts less pressure on Coke to guarantee an emotion.
Everything is about happiness – there are so many books about happiness, there's Pharrell's 'Happy', it's an overutilised word in contemporary culture.
That's according to the company's global vice-president of creative, connections and digital, Rodolfo Echeverria.
Echeverria told Marketing that 'Open happiness' was no longer "proprietary" to Coca-Cola now that the emotion had pervaded popular culture and advertising.
"What I can say about 'Open happiness', and happiness as a concept, is that it's overused," he said.
"Everything is about happiness – there are so many books about happiness, there's Pharrell's 'Happy'. Happiness is an overutilised word in current, contemporary culture."
Echeverria's comments are, perhaps, a veiled criticism of the approach by Jonathan Mildenhall, the former senior Coke marketer who led the 'Open happiness' campaign. In his current role as chief marketing officer at Airbnb, Mildenhall has implemented similarly emotion-led marketing campaigns, such as 'Mankind'.
However, Echeverria made it clear that he wasn't disparaging the 'Open happiness' campaign itself.
"It's not that we have a deep, profound criticism of it," he said. "Every one of our campaigns was done with sufficient research and the brand audits that we do periodically. At the time, 'Open happiness' was the right thing to do – the only thing is that time has passed."
He added: "It's stopped being proprietary, stopped being a good marketing asset for us."
Happiness as the goal
Echeverria might have a point about the pervasiveness of happiness.
Millennials, according to the popular wisdom, demand 'social purpose' from their brands of choice, and that means more emotion-led marketing.
That audience's pursuit of wellbeing and happiness is perhaps best exemplified by Google search trends, which show that the popularity of 'happy' as a search term has gone up over time. (The spikes around November and December suggest searches like 'Happy Christmas').
There has been a spate of ads relying on happiness as the main creative concept.
A Fiat spot from early 2014 features the Pharrell song:
While a more recent ad from Vodafone shows how good mobile data connectivity can make a crying child happy.
As the pursuit of happiness becomes more important to Coca-Cola's target youth audience, the latest tagline means the brand is no longer obliged to guarantee the emotion.
Echeverria explained: "It feels like, oh my God, is that [what] I'm promising on the opening of every Coca-Cola?
"We are now in a territory [that] is more humble and unpretentious. Drinking a Coca-Cola just makes your everyday moments more special. I can promise that."