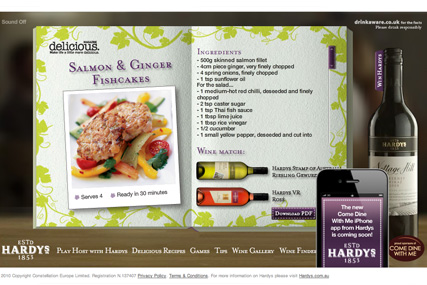 The programme returns on Sunday (5 September) alongside a multimillion pound marketing campaign for Hardys, created by Ignito, which will include new sponsorship idents, in-outlet promotions and consumer sampling.
In addition, consumers will be targeted with a digital campaign. For the first time Channel 4 will launch a Come Dine With Me iPhone app sponsored by Hardys.
Users will be able to use the app to have their own Come Dine With Me experience including the scoring system featured in the programme.
A new Hardys website and Facebook fan page will also go live on 5 September, featuring food and wine pairing suggestions, recipes and wine tasting tutorials.
The Australian wine brand will also offer a prize draw incentive and money-off coupons throughout October and November.
Hardys brand controller Neil Anderson said: "Hardys is launching its biggest ever integrated marketing campaign this September which will ensure the brand's position as the UK's number one Australian wine brand. Hardys' investment this autumn delivers incremental profit opportunities for our customers through the increased brand awareness in this key selling period."

Hardys is the UK's No. 1 Australian wine brand with 4.2% market share by volume, according to the company.