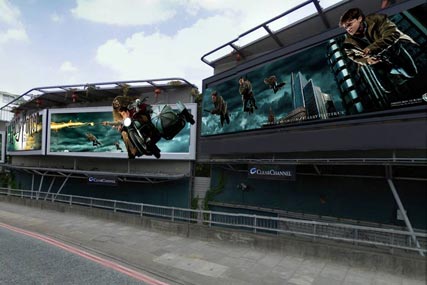 From today (9 November), the 3D ads will sit across five consecutive 96-sheet outdoor media sites on London's Cromwell Road for a two-week period, leading up to the film's release on 19 November.

The campaign, planned and bought by Omnicom media agency PHD and WPP out-of-home specialist Kinetic, also includes national six-sheets and 96-sheets, bus T–sides and Ocean's Two Towers and Holland Park sites.

Catherine Aylward, media group manager at PHD, said: "Our strategy is to get Britain excited about the Harry Potter finale, making 'Harry Potter and the Deathly Hallows part 1' an essential part of the journey to the end.

"Cromwell Road was the perfect opportunity to bring Potter to life on a huge scale as the centerpiece to our outdoor campaign."

The special build was managed by Kinetic's production arm Hi Rezz, and Clear Channel Outdoor's Create team. A spokesman for Clear Channel said the Holland Park sites deliver an estimated 2.3 million impacts every two weeks.

Sam O'Connell, project manager at Hi Rezz, said: "This has been a particularly complex special build to create, in keeping with the magnitude of the film, but the effect is incredible.

"It is a multi-layered special build incorporating huge 2D cut-outs of key characters, as well as 3D movie lettering and spot lighting. No one driving in or out of London on the Cromwell Road will fail to see the site."