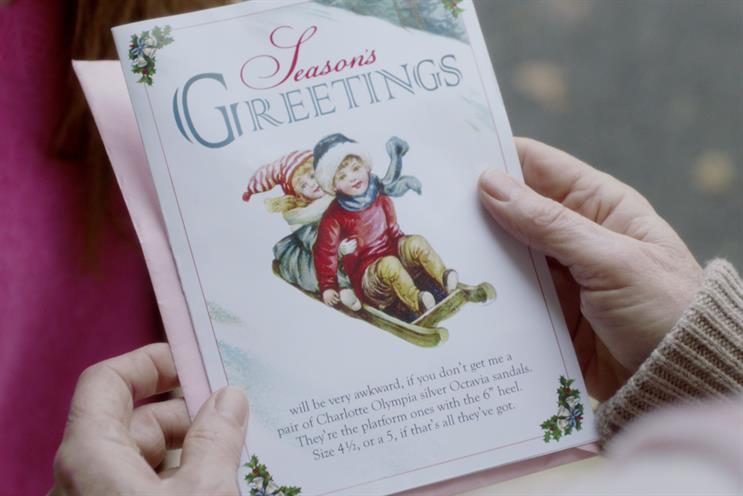 In the new work, released today, Harvey Nichols allows shoppers to create Christmas cards that detail exactly what gifts they want and what the consequences will be if they do not get them.
Adam & Eve/DDB created the "could I be any clearer" campaign for the luxury fashion retailer.
From today, consumers will be able to buy Christmas cards at Harvey Nichols stores with messages such as "Seasons Greetings… will be very awkward if you don't get me a pair of Charlotte Olympia silver Octavia sandals."
Consumers can also create their own cards using a Harvey Nichols app to print at home and share their messages on social media. The retailer has also released a humorous online film to promote the campaign.
The work was created written by Jon Farley, art directed by Alex Lucas and directed by Eric Lynne through Partizan. Rocket handled the media.
Shadi Halliwell, the group creative and marketing director at Harvey Nichols, said: "This year, we want our customers to wake up on Christmas morning and love the presents they get from their nearest and dearest. We all secretly want wonderful gifts and Harvey Nichols this year is there to help make your Christmas dreams come true.
"With our 'Could I Be Any Clearer' app, you can cheekily spell out that stylish gift you've always wanted, making sure you end up with that Lanvin silk dress rather than the iron to steam it with!"
The Christmas 2013 campaign, "sorry, I spent it on myself", involved the retailer selling cheap novelty gifts with messages explaining that the buyer had spent all their money on themselves.
"Sorry, I spent it on myself" won four Grands Prix at Cannes and helped Adam & Eve/DDB to be named Agency of the Year.