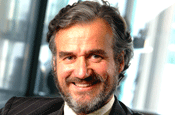 The company said that its revenue rose to €755 million during the period, up 3.6 per cent during the same period last year.

Fernando Rodés Vilà, chief Executive officer of the Havas Group, said that the results continued record growth of 7.1 per cent during 2007.

He said: "We are now preparing for a more fragile economic environment but our performance, which exceeded our expectations, leaves us comfortable about our ability to react."

The group said that growth was 8.4 per cent in the second quarter of the year, after 7.4 per cent growth during the first quarter.

Net new business totalled €1,133 million in the first half of 2008.