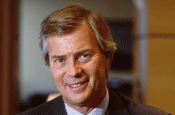 The holding company, which is chaired by Vincent Bolloré, has acquired a 100 per cent stake in BLM for an undisclosed sum and will rename the agency Arena BLM.
Arena BLM will be run as a standalone business from Havas' Media Planning Group agency. It will form the UK arm of Arena, which was launched five years ago and has a presence in seven markets including France, Spain and Portugal and across South America.
Havas' acquisition of BLM follows interest in the independent agency from several potential buyers, including Engine Group, the owners of WCRS. Engine and BLM were close to signing a deal last year only for talks to fall through at a late stage.
Steve Booth, the founder and chief executive of BLM Group, said: "We've been looking for a partner for some time. Independence has served us well - it was right for a very long time but what's important now is how we accelerate growth and step up to the next level."
Booth and other senior management will continue to run the agency under the terms of the deal.