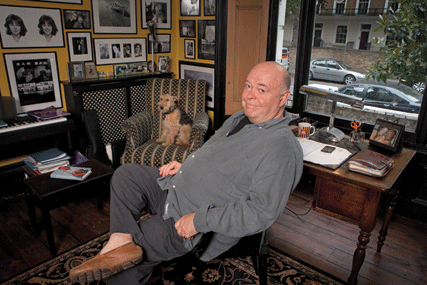 After 46 years as an agency creative, Moira left as chairman and UK director of creativity of Havas London in January after negotiating a financial settlement.
He had spent 11 years at the agency, having previously worked at Publicis twice and having launched his own agency, Woollams Moira Gaskin O'Malley.
As UK creative director at Havas London, he was responsible for creative direction across all the agency's brands, with particular responsibility for Credit Suisse, for which Moira was part of the pitch-winning team.
Moira said he particularly enjoys working with high-end or luxury brands, which "set themselves up for generations, not just the next campaign".
"There is a lot more freedom [working on luxury brands] than you get working for an FMCG brand," Moira told Campaign. "The clients don't have the market research infrastructure and therefore more incentive to trust the creative. That is why a lot of luxury brands have in-house creative. You get closer to management and people that make the important decisions.
"Look at the work Benetton did with Oliviero Toscani; you don't need an army of planners and account people and junior creatives."
For Moira, the tension between creative agencies and brands has become worse in the digital age, as agencies' margins have become squeezed, output has increased and deadlines have tightened. He predicts that creatives could find more rewarding careers working in-house for brands.
He said: "It is part of a bigger question of whether the conventional creative agency can exist. I think we are towards the end of that cycle. Where will creativity go? All of it flows now into media or the client. I think the creative intermediary could be over.
"More and more creative people would eventually go in-house. Why wouldn't you want creative control of every facet of the solution from the packaging to the store to writing advertising, which is a very small part of how it operates. I think the conventional ad agency is on its last legs."
As one may expect from an agency veteran, Moira doesn't believe above-the-line advertising is as good as it was 20 or 30 years ago, although he warns of older executives looking back at their time in the industry with "rosé-tinted glasses".
For Moira, the decline in advertising quality in recent years is because of a "crisis in confidence" with regards to belief and talent in the industry, as well as a modern tendency for "overreliance on research".
He added: "There is also a crisis in talent. I don't think really bright people find our business as attractive as they would have before."
"The digital element has opened all sorts of opportunities that are not to do with advertising that are creative – they are more seductive than sitting in an office and there are not as many people doing it. The ad agency payroll has shrunk a lot in the last few decades as margins got squeezed. When I started at Ogilvy there was 50-60 people in the creative department."
Moira said he will look mostly fondly on winning pitches as his favourite career moments, remarking that he loved the "2am pizzas" and "adrenaline fix" that only comes with a high-pressure bid for winning new business.
However, this entrepreneurial enthusiasm did not translate well for Moira when he started his own agency, Woollams Moira Gaskin O'Malley, in 1987. WMGO lasted for eight years until it collapsed under mounting debts in 1995.
Moira admits that he "didn't like the independence" that came with running a start-up because "to be a creative means you need a bit of rebel in you. It's difficult to rebel against yourself!"
"I found that conflict very difficult to manage. It made an uncomfortable time... Being a salaried employee is easier. If it's somebody else's money you are more likely to do what you want. Management and creativity is difficult."
Moira returned to Publicis in 1995, where he resumed creative control following the depature of John Kelley and was credited with establishing the agency's reputation for hard-working and populist advertising for clients such as Renault and Asda.
However, he admits it was a "mistake" to go back to his old agency: "It was a bit of a panic move. After WMGO I should have been more patient. I don't think going back ever works. It was built on a nostalgia for what the agency had been when I left. That agency no longer existed. But we had some success. I did the Thierry Henry campaign for Renault Clio (below) – that was my idea being an Arsenal fan."
His big break came when he was made creative director at McCormick Publicis, joining from Ogilvy & Mather in the early 1980s. "That was great fun and very successful in terms of awards. Everybody has a purple patch and in the interim you are marking time. You can't be 'on' all the time."
The Moira legacy lives on in his son Dom Moira, who is an associate creative director at M&C Saatchi. What advice does Moira have for him and the younger adland generation?
"What creatives need is an element I describe as the big picture of commercial creativity. It is easy to get sucked into the executions of things and think 'I am a digital content creator'. You need to remind yourself that you are part of a much bigger creative community. So keep trying big picture thinking.
"It is very difficult to look up from your situation and realise that my work is part of something bigger. I don't think young creatives have enough time to go to experimental theatre or retrospective movies at the British Film Institute, the things you get to do living in London. Everybody gets unrealistic deadlines as agencies shrink and margins shrink. That is why I think this model is on its last legs."
Apart from being involved in a breast cancer charity, Moira has no plans to go back to an agency, but has not ruled out a return to work in some form: "It may be pig farming, it may be control of a fashion superbrand!"