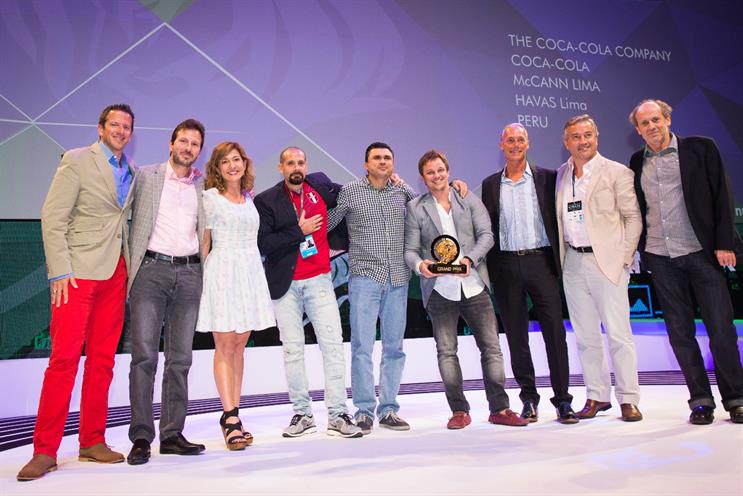 Working with McCann Lima, Havas Media Peru devised a media campaign for Coca Cola with a 'Happy ID' stunt designed to make Peru a happier nation.

Based on research that showed that despite living in the country in the region with the highest economic growth, Peruvians are not expressing their happiness and are languishing near the bottom of the LatAm region's happiness rankings.

The Media Grand Prix judges were impressed by the campaign's creative use of owned, earned, shared and paid media across web, out of home, TV, radio and press.

'Happy ID' involved Coke-branded photo booths at 30 points around the country, including next to the National Identity Register. Coca-Cola wanted to 'untap' the happiness of participants with its photobooths which were activated only when individuals smiled.

Dominique Delport, Havas Media Group's global managing director, said: "The success of this campaign proves the importance of 'moments of magic' in today's media landscape – one in which creative and meaningful owned, earned and shared media play an increasingly important role in campaigns for brands, enabling them to optimise their paid investments.
"Today's winning campaigns will only capture the world's imagination when they gain organic reach and are naturally shared amongst local and global communities. This is what is great about 'Happy ID'."
The integrated, Happy ID campaign, also involved participants using their ID cards as reward cards with they could get discounts. In the first month of the campaign's activation, some 45,000 ID cards made by the Peruvian government had happy faces – out of a total of 50,000 which were processed.
On social media, the campaign generated some 1.3 million likes, shares and views.