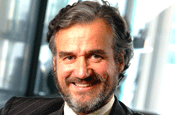 The Paris-based group, whose operations include Euro RSCG, Havas Media and Arnold Worldwide, reported net income up by 25 per cent to 104 million euros and net debt down sharply to 79 million euros.

Havas said it was the first time in its history that it had posted a net income of more than 100 million euros.

Meanwhile, organic growth grew by 4.7 per cent and operating margin stood at 12.1 per cent. This compares to 8.2 per cent in 2006.

However the group reported faltering growth at its Arnold operation the US.

Earlier Havas had announced a restructuring which wlll unite its Euro RSCG and Arnold operations under a new entity headed by the Euro RSCG chief executive David Jones.

Fernando Rodes Vila, the Havas chief executive, said targets set in 2006 of organic growth, new business, profitability and financial capacity had been achieved a year early and would enable the group to face a much weakened economic environment with confidence.

The group puts its improvement down in large measure to a more agile and simplified structure around two main busness units, Havas Worldwide and Havas Media.

"This performance bears out the pertinence of our operating plan," Rodes Vila added.