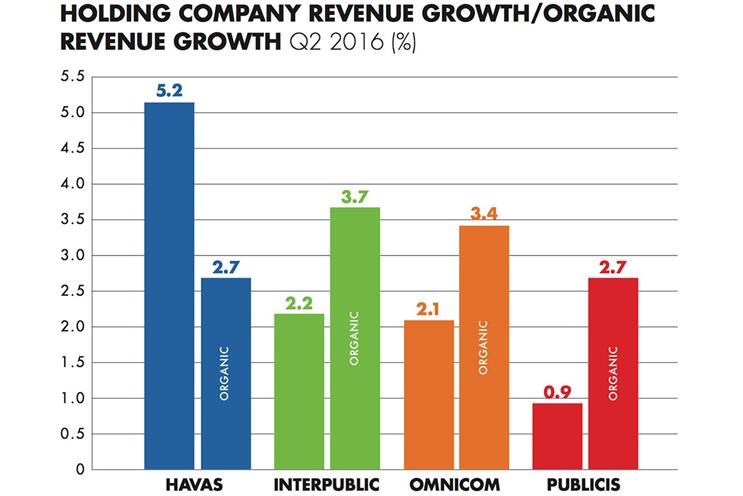 The owner of Havas Worldwide and Arena Media reported global revenue of €581m (£487m) in the three months to 30 June 2016 – an increase of 5.2% year on year, which represented organic revenue growth of 2.7%.
The strong global figures for Havas were boosted by the acquisition of Fullsix Group, despite UK revenue growth in the first six months of 2016 being hapmered by marketers holding back spend in the run-up to the European Union referendum.
However, Alex DeGroote, media analyst at Peel Hunt, cautioned that Havas' organic growth decelerated compared with the previous quarter, when it saw an uplift of 3.4%.
IPG's revenue between April and June was $1.92bn (£1.46bn), a 2.2% increase compared with the same period in the previous year, but it recorded a 3.7% increase organically – the strongest among the major holding companies that have reported so far.
McCann Worldgroup and FCB Inferno owner IPG said it expected to reach "the high end" of its 3-4% organic growth target for the full year, after achieving a 6.7% organic revenue increase in the first quarter and 5.1% for the first six months.
At Omnicom, which owns the BBDO and OMD networks, revenue grew 2.1% year on year to $3.88bn (£2.96bn) in the second quarter. On an organic basis, revenue across Omnicom's operations grew by 3.4%.
Publicis Groupe reported the slowest global revenue increase at 0.9% to €2.46bn ($2.06bn), although its organic growth of 2.7% matched that of Havas. However, Publicis Groupe's UK business turned around a 0.7% decline in the first quarter to 3.6% growth in the second.
Speaking to Campaign, Maurice Lévy, chairman and chief executive of Publicis Groupe, attributed its strong performance in the second quarter to Saatchi & Saatchi and Blue 449 winning Asda's creative and media accounts, Western Europe chief executive Guy Wieynk "doing a good job" at Publicis UK and SapientNitro "firing on all cylinders".
DeGroote, who compared the organic growth of the individual holding companies, described the results as "anaemic".
He said: "They are in line with expectations but it underlines that these are not the most buoyant times for holding groups. It remains to be seen what the Association of National Advertisers report will have on performance over the second half of the year."
DeGroote added that there are some "countervailing forces" facing the industry. For example, the positive impact of the upcoming Olympic Games in Rio de Janerio and the US presidential election – both of which are popular events for advertisers – could be offset by the fallout after Brexit.
WPP will publish its results on 24 August.