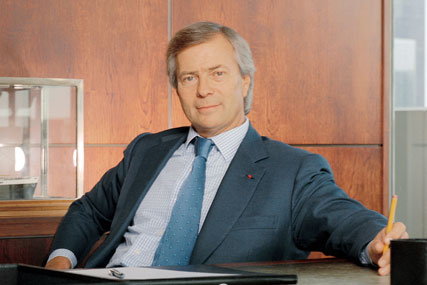 The company, led by Vincent Bolloré, has posted a 1.5% year-on-year rise in organic growth for the first three months of year, compared with an 8.4% drop this time last year.

Latin America continued to be the best performing region, with organic growth of 24.4% attributed to "excellent media activities".

North America, which contributes around 35% of total group revenue, also had a strong start to the year – up 5.2% thanks in part to Euro RSCG winning business for Credit Suisse and Heineken. This was said to represent "a significant turnaround" in its biggest region, which had posted negative growth of 9.2% for the corresponding period in 2009.

In Europe, France, home to Havas HQ and the group's second-largest market worth approximately 20% of total revenue, returned to organic growth of 0.5%, largely driven by its Havas Media activities. This compares with a fall of 6.1% in the first quarter of 2009.
The outlook was also reported to have improved in the rest of Europe, with Italy and Germany also returning to growth.
However, the UK, Havas' third-largest market and worth around 15% of total business, continued to post a decline, (-1.5%), although considerably improved on the -14.3% slump in Q4.
UK advertising was said to have "progressed very well", while media activities that include MPG, Arena BLM and All Respone Media, "remained stable".
Other European markets that continued to be down year on year include Belgium, Czech Republic, Finland, Ireland, Poland and Hungary.
Hervé Philippe, chief financial officer at Havas Group, said: "These are better than expected results. At the end of February we were advising analysts that globally our performance will be close to zero.

"But a good month in March has resulted in 1.5% growth for the quarter. Particularly strong areas of growth have been experienced in Latin America, led by Brazil, and North America."