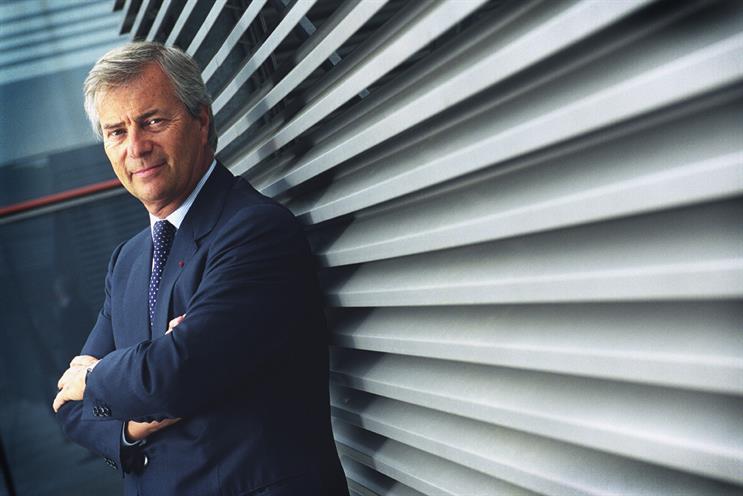 So… now that it has all its ducks in a new row, with media and creative interests neatly packaged into two main divisions, what next for Havas? The answer, according to some, is a complete sale or merger to a larger rival. There's speculation suggesting, once again, that the company's chairman and largest shareholder (on a holding of 37 per cent), Vincent Bolloré, is about to bale out.
For much of the past decade he has been building his stake, via the family business the Bolloré Group. But for a good number of those years, the market has been convinced he wants out or would be amenable to a decent offer.
Aegis, in which Bolloré had built a 26.4 per cent stake with a view to an eventual Havas takeover, was acquired by Dentsu in a £3.2 billion deal last year. But was it Bolloré's last hope of headline-grabbing advertising glory?
Two weeks ago, when Havas announced it was restructuring its media agency assets, in a mirror image of the tidying-up exercise it conducted last year on the creative side, some in the City started to speculate that an endgame was yet to be played.
Havas spin doctors were ready and waiting for this sort of talk. Campaign was told it should not doubt the "long-term commitment of [the group's] main shareholder, Bolloré Group". For further proof, we were advised that Bolloré's son, Yannick, had recently been named the deputy chief executive of Havas.
And, they add, though Havas is the sixth (and thus smallest) global agency holding company after WPP, Omnicom, Publicis, Dentsu and Interpublic, it's arguably the best performer.
Central to this argument is a Morgan Stanley report showing that, over the period 2007-12, like-for-like growth in organic revenues and profitability was as good or better than its rivals.
Its organic revenue growth over that period (2.7 per cent) rivals that of Publicis and Omnicom; and, at 64 per cent, its net profit growth is bettered by only WPP among the big holding companies. City sources argue that its share price, currently around o4.80, continues to represent good value.
And yet… if consolidation is to continue in the communications industries – as many believe – then it is difficult to completely rule out Havas being in play at some point in the not-too-distant future.
Questions remain surrounding Havas Media's second-string network, Arena Media, currently present in 13 markets yet not folded into this new restructure. Staff at a collection of less formally networked UK agencies such as Archibald Ingall Stretton, Cake and All Response Media must be wondering if the latest move has any implications for them too.
We're assured Bolloré remains a constant presence in Havas offices in the Puteaux region of Paris. His family business is situated next door and his new passion – a fleet of electric cars called Bolloré Bluecars – have a carport outside the office for Havas staff.
Such close ties suggests Bolloré is definitely not going to sell his stake in Havas. Not tomorrow, at any rate.